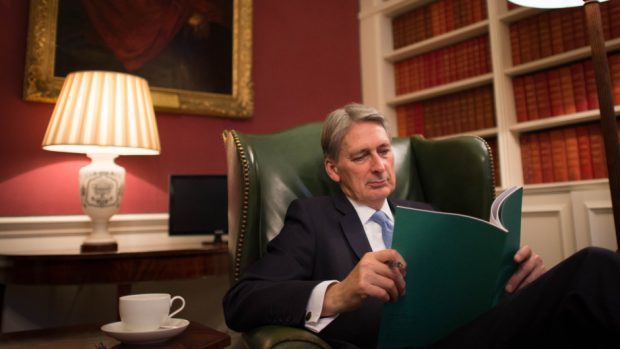 A respected economic think tank has warned the UK is in line for "an additional dollop of austerity" in the 2020s after Philip Hammond abandoned plans to eliminate the deficit by the end of this parliament.
The Institute for Fiscal Studies also predicted the worst period for earnings growth for 70 years following the sharp downgrade in the economic outlook.
Director Paul Johnson said around half of the wage growth projected in March for the next five years was not now expected to happen.
He added: "On these projections real wages will, remarkably, still be below their 2008 levels in 2021.
"One cannot stress enough how dreadful that is – more than a decade without real earnings growth.
"We have certainly not seen a period remotely like it in the last 70 years."
He also described the forecasts produced by the Office for Budget Responsibility (OBR) on Wednesday as "modestly upbeat" relative to some other forecasters.
It predicted a £122billion increase in borrowing over five years, with almost half of that attributed to the impact of Brexit.
The numbers prompted an immediate backlash from prominent Brexiteers who claimed the OBR was being too pessimistic.
Meanwhile, a report by the Resolution Foundation, another think tank, also painted a bleak picture.
It said lower earnings and higher inflation could mean incomes growing less than half as fast between 2015 and 2020 compared to the years following the financial crisis and the recession that followed.
Mr Johnson said the chancellor had opted for "jam tomorrow" in the form of potential economic returns from greater investment over "jam today" in the form of more money in people's pockets.
His new fiscal rules, which are more relaxed than those of his predecessor, permit this increased borrowing for capital spending.
But Mr Johnson said the failure to meet George Osborne's target of paying down the deficit and reaching a surplus by 2019/20 would entail continuing austerity thereafter.
Instead Mr Hammond has pledged to return the public finances to balance "as early as possible" in the next parliament.
Mr Johnson said: "Getting to balance in the next parliament will still require an additional dollop of austerity on top of the full decade's worth we will have had by then."