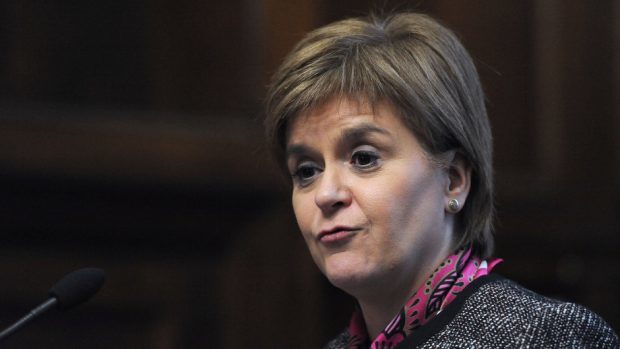 MSPs will today vote against the UK starting the process to leave the European Union.
Labour, the Greens and Liberal Democrats will back a Scottish Government motion at Holyrood arguing against the triggering of Article 50, although the vote itself has no legal power.
Despite the fact the result will be purely symbolic following a Supreme Court ruling, Nicola Sturgeon called it "one of the most significant votes parliament has made" as it will reflect a cross-party call from Scotland to reject the UK Government's Brexit strategy.
The first minister had pledged to give MSPs a vote on the issue regardless of the court's decision, but the Scottish Government has put forward a motion for debate rather than a formal legislative consent memorandum.
Speaking on the eve of the debate, Ms Sturgeon said Scots "will be right to start thinking about how our national interests are best served" if the UK Government ignored the vote.
"This is one of the most significant votes in the history of the Scottish Parliament since devolution," she said.
Kezia Dugdale said that while her party accepted the UK was leaving the EU, it opposed Prime Minister Theresa May's proposed terms.
In an article for LabourList, Ms Dugdale said: "Scottish Labour respects the result of the UK-wide referendum on the EU, but we also know the people of Scotland did not vote for Theresa May's hard Brexit and that no one voted to become poorer."
The Scottish Labour leader has put herself at odds with Jeremy Corbyn by confirming she will instruct her MSPs to vote against triggering Article 50.
The decision comes less than two weeks after she said she supported the UK leader "entirely" when he said he would not do anything to "frustrate" the Brexit process.
A Labour amendment at Holyrood says the party "respects the outcome of the EU referendum and accepts that, as a result, we will leave the European Union" but argues Article 50 should not be triggered until the UK Government has set out detail on "unanswered questions" around "jobs and opportunities of people across Scotland".
Senior figures close to Ms Dugdale said the party's position was "consistent" with her comments, adding that today's vote would not in itself frustrate the process.
Meanwhile, rumours are circulating that some Labour MSPs may rebel during the vote and back Article 50 being triggered, with the party divided over the issue.
One potential dissident said: "Wait and see at decision time."
The Scottish Conservatives' chief whip John Lamont said: "For the first minister the most significant issue in her inbox is to use Brexit to manufacture a case for independence."
The Greens are against the triggering of Article 50 and plan to stage a "Scotland says stay" rally outside Holyrood to mark the debate.
Scottish Liberal Democrat Leader Willie Rennie said his party was "unapologetically pro-UK and pro-EU".
A UK Government spokesman said: "The Scottish Parliament is free to debate any issue it chooses, and indeed has discussed Brexit on many occasions."