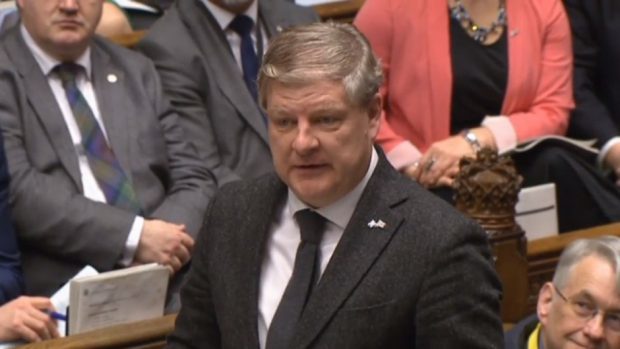 SNP Westminster leader, Angus Robertson, has accused Theresa May of "airbrushing" Scotland's priorities from her Brexit plans.
The Moray MP hit out at the prime minister yesterday for not mentioning the nation once during her statement updating the Commons on the EU summit.
He asked whether she had briefed her European colleagues about the progress of negotiations with the devolved administrations.
He continued: "Did you confirm that you will work with the Scottish Government to secure continuing membership of the European single market?
"Did you remind European colleagues that, in Scotland, we voted by 62% to remain in the EU and that only one MP representing a Scottish constituency voted for your Brexit legislation?
"It is the member state that is supposed to negotiate on all of our behalves within the EU – Scotland did not warrant a single mention in your statement."
Mrs May insisted she was putting forward the "views of the UK".
She added: "It is the UK that will be negotiating. We listen, we take account of, and we incorporate views of Scotland, Northern Ireland and Wales.
"But when I am sitting there around the EU Council, I am doing so as the prime minister of the United Kingdom."
After the exchange, Mr Robertson said the Tory leader could not continue to "airbrush" Scotland's priorities from her Brexit plans and negotiations.
He added: "It is becoming increasingly clear the UK Government is failing to raise or support Scotland's wishes and interests in its discussions.
"This is not the partnership of equals that we were promised.
"Scotland voted overwhelmingly to remain in the EU and time is now running out for the UK Government to show it is serious about respecting that mandate."