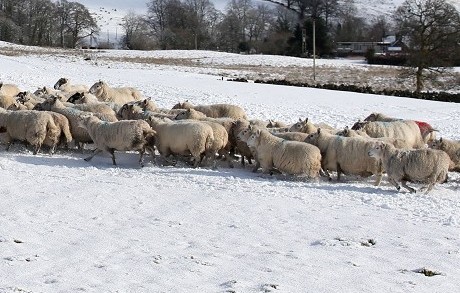 Farmers are facing huge difficulties looking after livestock during the Beast from the East.
NFU Mutual rural affairs specialist Tim Price said some of the worst UK-wide winter weather we've seen for over a decade has provided huge challenges.
He said: "In the areas which have had heavy snow and temperatures falling below -10c, farmers are facing a massive challenge to get fodder to sheep and cattle which are out in the fields or housed in remote buildings.
"Scotland and the north-east of England are currently the worst affected regions with deep snow still falling and drifting in high winds.
"Many farmers are doing their bit to help villages and towns cut off by snow by using their tractors to snow plough roads – and as part of our support for the countryside.
"We haven't seen such cold, prolonged temperatures for a generation. With temperatures not rising above freezing during the day, the risk of pipes freezing in homes and farms is very high."
NFU Mutual paid out its highest ever number of claims for snow damage after heavy snow in Scotland and north-east England brought down the roofs of hundreds of farm buildings in 2010.
Mr Price added: "The present conditions, with light, dry snow coming from the east means it is unlikely we will see a repeat of 2010 scenario – but with more heavy snow forecast over the next 48 hours, it is important to keep an eye on depth of snow on roofs and move vulnerable livestock inside if snowfall turns wet and slushy and roofs appears at risk.
"Safety for farmers, family members, and workers is paramount, and while fully understanding the pressure farmers are under, trying to keep animals alive and while working in extreme cold, it's vital to avoid taking risks which could lead to injury or fatalities.
"We're also calling for the public to avoid using rural roads unless it's absolutely necessary."
LIVE: As Beast from the East takes a bite, here are all the updates you need to know