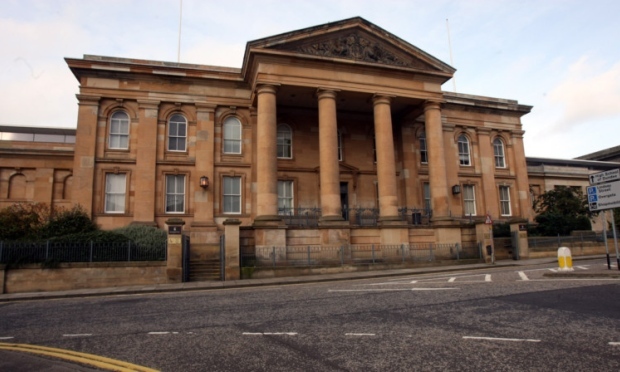 A premiership prospect today told a court that his football career is over after a single punch fractured his skull and put him in a ten-day coma.
Robert Chambers has gone on trial accused of assaulting former Dundee FC player John Black in an attack in Dundee's Old Hawkhill on October 8 last year.
On the first day of Chambers' trial Dundee Sheriff Court heard the pair had had a chance encounter close to Dundee University's student union that "escalated" into violence.
At the outset of the trial fiscal depute Eilidh Robertson read a joint minute of agreed evidence to jurors setting out the injuries Mr Black, 21, sustained.
He was found unconscious on Old Hawkhill around 2.32am on October 8 last year.
Mr Black was rushed to Ninewells where medics found he had a fractured skull and bleeding on the brain.
He was placed on life support before undergoing an operation to remove a section of his skull to alleviate the swelling on his brain.
He then spent ten days in a coma before undergoing extensive surgery and rehabilitation.
Giving evidence, Mr Black told the trial he had previously been a professional footballer for Dundee FC before being released in 2016 and was working on his fitness in an attempt to return to the game when the incident occurred.
He said he had been out with friends in Blairgowrie on the evening of the attack – but remembered nothing after his group left the Perthshire town to head to Dundee.
Mr Black choked back tears as he described the effects of his horror injuries – at one stage being asked to leave the witness box to show his scars up close to jurors.
He said: "I was in a coma for ten days.
"I was trying to get back into football, bulking up and going to the gym.
"I lost all my strength and my balance and co-ordination was ridiculous.
"The surgeons had to remove a chunk of my skull to allow my brain to swell.
"They couldn't wake me up because of the pressure on my brain.
"I later had to have more surgery to put an acrylic plate in.
"I can't do things I do before and I can't go back to playing professional football again.
"I can't head a ball – any impact on my head could be fatal."
Chambers best friend, Jack Rodger, told the trial he had been talking to a friend of Mr Black's around 10 to 20 yards from the scene of the alleged attack as the punch was thrown.
He said the pair had been standing feet apart arguing, with another male in between them trying to push them apart.
Mr Rodger said: "Robert punched him. I didn't see any physical contact between them before the punch because I had my back to them.
"He fell and kind of folded on himself and his head hit the road."
Chambers and Mr Rodger later exchanged Facebook Messenger messages – with Mr Rodger urging his friend to "tell the truth" and go to police and saying he was going to police HQ the following morning to give a full statement.
Writing online under the name "The Notorious Chambo", Chambers said "it's probably all a blur for you".
He later added: "All you say is you can't remember, that's all."
A further message read: "All you say is you were wasted, you looked around and lots of people started shouting and running off in different directions and you wish you could help more but it's all a blur."
Chambers, 24, of Craigmount Road, Dundee, denies a charge of assault to severe injury, permanent disfigurement, permanent impairment and danger of life.
It is alleged that on October 8 last year at Old Hawkhill, Dundee, Chambers punched John Black to toe head causing him to fall back, striking his head on the ground.
The trial, before Sheriff Tom Hughes and a jury of eight men and seven women, continues.