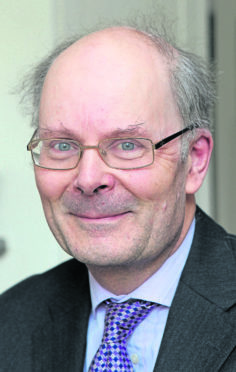 The "odds are against" an independence referendum being held in the next five years, according to Scotland's most senior pollster.
Sir John Curtice expects that Indyref2 will be "kicked into the long grass" when Nicola Sturgeon updates the country on her separation plans in the autumn.
The Strathclyde professor's comments prompted the SNP leadership to respond that their focus "for now" is protecting Scots from a cliff-edge Brexit.
Asked if he thought it was more likely or not there will be a second breakaway vote in the next five years, Sir John told The Courier: "It's very contingent on Brexit.
"I think at the moment the odds are against it, but probably only marginally."
He added: "If the SNP were really thinking of holding an independence referendum any time soon, I'm not quite sure we would have had such a quiet summer from the First Minister, whose most notable appearance seems to be conducting a band for the opening of the European Championships."
The politics professor also suggested Ms Sturgeon will be thinking of saving her own job when deciding whether to pull the trigger.
He added: "If you make the assumption that Ms Sturgeon wants to remain first minister until at least May 2021 – and if you also make the not unreasonable assumption that if she holds an early referendum and loses she's out – you can see that she has a strong disincentive at the moment to go (for Indyref2)."
Ms Sturgeon previously stated she would return to the question of Indyref2 timing in the autumn, when the terms of Brexit were meant to become clearer.
Her previous plan to run a plebiscite between autumn 2018 and the spring of 2019 was dumped after the SNP lost 21 seats in the general election.
Despite the UK Government being in disarray over Brexit, public opinion has not shown a significant shift towards Scottish independence.
A Survation poll for the Daily Record last month found 47% of Scots would vote Yes, compared with the 53% for No.
The same survey revealed just one in four wanted the FM to call a re-run this autumn.
Keith Brown, the SNP's depute leader, signalled there would be no pulling of the Indyref2 trigger in the autumn.
He said: "When the terms of Brexit become clearer, we will set out our judgment on the best way forward, including our view on the precise timescale for offering people a choice over the country's future.
"The fact is Theresa May's Chequers proposals are in tatters and the likelihood of a no-deal Brexit grows by the day.
"That's why, for now, our focus is rightly on protecting Scottish jobs and household incomes from the danger of chaos next March."
Adam Tomkins, for the Scottish Conservatives, said: "Instead of using Brexit to agitate for independence, the first minister should be maximising the opportunities it will bring Scotland."