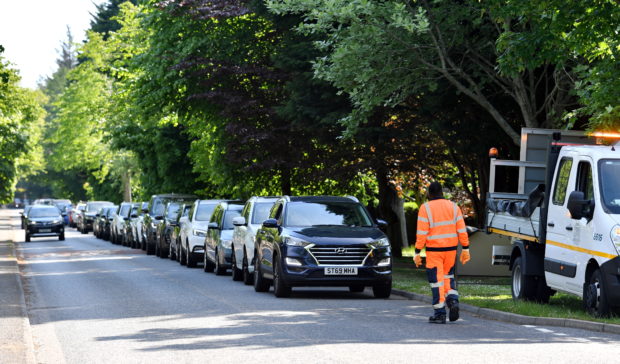 Police were on scene as queues trailed around streets surrounding three Aberdeen recycling centres today – as the facilities finally reopened across the north-east.
Tips in Hazlehead, Bucksburn and Tullos all opened at 10am in the city, while all but three of Aberdeenshire Council's began service again too.
In Aberdeen, expecting an influx of cars to the areas, police were on hand to oversee the situation at Tullos and Hazlehead.
Dozens of cars sat in Hazlehead Avenue and Greenbank Crescent awaiting entry, as they tried to offload two months' worth of rubbish.
Staff turned a number of vans and vehicles towing trailers away as only cars, with only drivers in them, are permitted under the new guidelines.
With many undertaking additional work around the home during the lockdown, pressure had been mounting to reopen tips, with last week's confirmation that gates would reopen yesterday widely welcomed.
The household waste and recycling centres have been under a coronavirus-induced shutdown, in an effort to protect staff and visitors from the pandemic.
As part of Scottish Government easing of some of the lockdown measures, tips were allowed to reopen.
While Aberdeenshire's facilities are operating on an appointment-only basis, the city's three centres in operation are open to all residents.
The council's tip operator Suez had not considered it necessary for the city's tips to bring in a booking system to allow their safe reopening.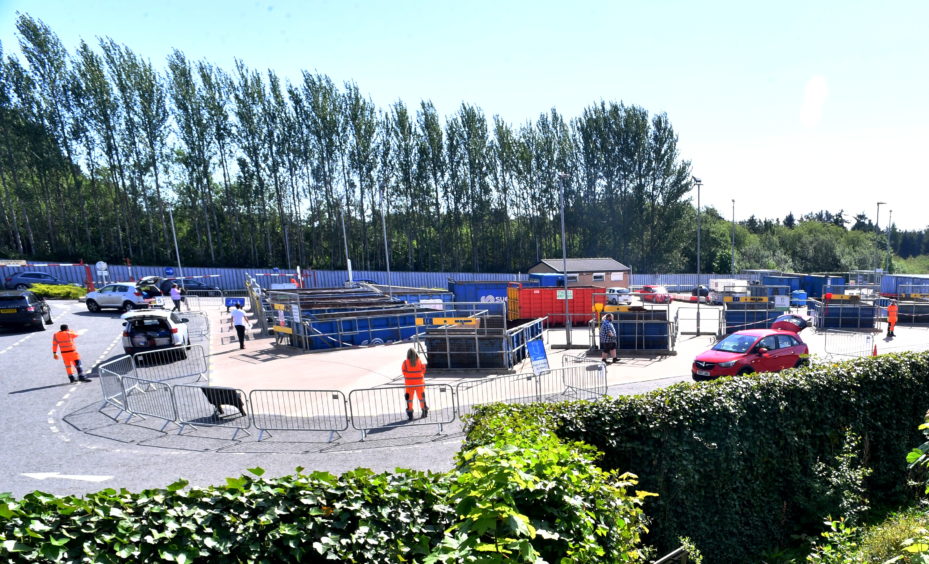 The firm is managing the situation by limiting the number of vehicles allowed entry to the three sites that have been reopened, specifically chosen as their layout allows for it.
The council had warned visitors to city tips to expect to have to queue to enter, as numbers allowed into the sites is limited to allow safe distancing between them and those working there.
A council spokesman said: "Some queueing was expected following the reopening of the household waste and recycling centres, especially in the morning, and measures have been put in place to help manage demand.
"These measures include restricting the size of vehicles and range of materials accepted to help maximise the throughput of traffic. In addition, there are traffic restrictions in place and marshals are directing and managing traffic on approach to the centres.
"Residents should only come if necessary and, if they do need to come, consider visiting later in the day, when the initial queues may have dissipated.
"Residents are reminded  that large vans or trailers are not permitted for now, and should check the council website for the most up to date information before visiting a recycling centre."
Aberdeen tips are accepting a limited range of waste, including general household rubbish, non-electrical bulky items, cardboard and garden waste.
Staff are also requesting proof of address from visitors before allowing them in.
The situation at Aberdeenshire Council's recycling centres was markedly more relaxed than what residents of Aberdeen were faced with.
The authority reopened 12 of its household recycling centres for bagged general waste, garden waste, and electrical items, but Aberdeenshire residents were asked to book a slot for drop-off in order to control the volume of vehicles accessing the sites at any one time.
At centres including those at Westhill, Inverurie and Ellon, no overly large queues were reported.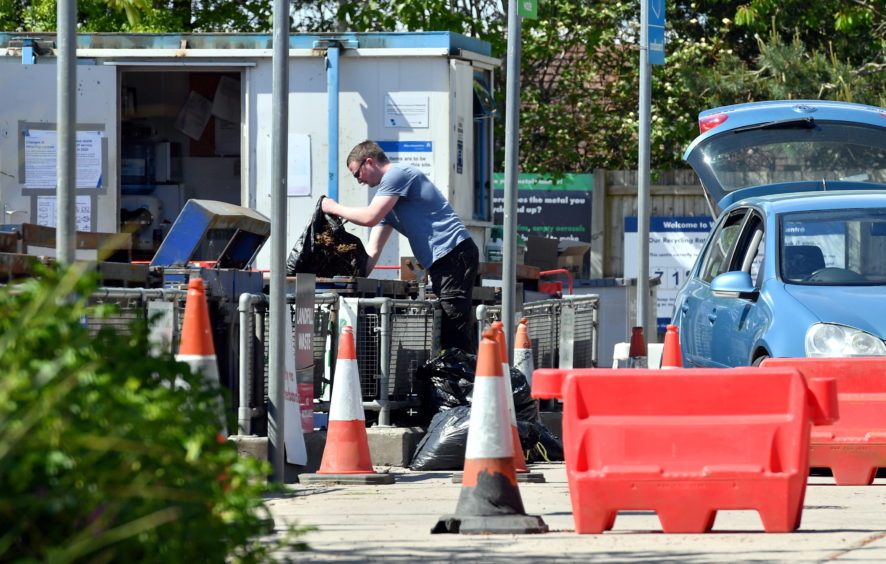 Scottish Conservative north-east MSP Peter Chapman claimed delays in reopening tips had meant the desperate queuing in the city was inevitable.
He said: "North-east recycling centres are essential so it's positive they have finally been allowed to open.
"With people confined to their homes for the most part, many are generating large items of waste due to DIY projects for example and this should have been taken into account far sooner.
"Added pressure is on councils to ensure this waste can be deposited in a safe manner during this coronavirus outbreak."
There were also queues in the north as tips and recycling centres opened for the first time since lockdown.
A booking system was imposed in Moray with the council revealing that 1,700 slots had been secured since it opened on Friday.
Highland Council deployed measures to maintain order at sites with parking assistants on hand to ensure visitors were able to safely enter while only 14 of its 21 sites were open.
Residents whose nearest centre is in Bonar Bridge, Durness, Grantown, Kingussie, Lairg and Portree face longer waits until they can dispose of items due to it being harder for the local authority to implement measures to ensure social distancing guidelines are followed.
But although Inverness had some queues when it first opened, the day passed off in an orderly fashion.
Visitors to the sites in Moray believed that drop-offs being restricted to just small electrical items as well as bagged general and garden waste had limited the amount of visitors.
Current rules are limiting the number of slots to 10 per hour in Elgin with a one-way system also in force to manage traffic. Buckie, Keith and Forres are the only other locations that have been opened in Moray.
Queues formed at Inverness at opening time however staff were able to deal with the demand promptly, with visitors passing through within 15 minutes.
Some turned up to sites with items that are not currently being accepted and were turned away.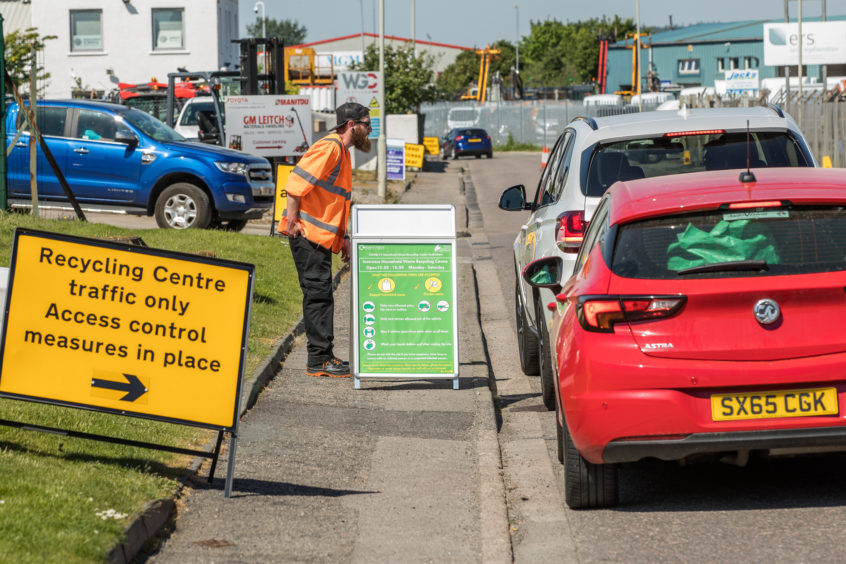 Alasdair Christie, chairman of Highland Council's recovery board, said: "This is certainly one of the first steps towards getting services back to what they were pre-covid-19 and it is great recycling centres have reopened.
"Many people like myself will be going down in the next couple of days to drop off things and it is good that we can get them up and running.
"This is one of the early steps towards getting back to normality.
"We have got some excellent staff who work at these centres who are professional and know how to organise, and of course, the Highland public is very appreciative and supportive.
"I am delighted this has run so smoothly. We have still got to be cautious and careful but it is nice for people to be able to get out and about and be able to see that progress is being made and we are starting to come through this awful time."
Rules imposed in the Highlands and Moray mean staff are unable to assist visitors while only cars have been permitted inside the site with trailers banned.
Highland Council is only allowing one person out of the vehicle to dispose of waste while Moray Council is allowing two.
Graham Leadbitter, leader of Moray Council, explained restrictions on bookings and the type of waste that could be dropped off would be reviewed weekly.
He said: "Over the last few weeks the waste team has done a tremendous job to keep a good system running in very difficult circumstances.
"There has been a huge amount of support from the public and a huge amount of patience, which has been really appreciated.
"There have also been positive comments about the recycling centre booking system, which has helped to keep both the public and staff safe.
"Over the coming weeks the type of waste that can be taken to recycling centres will greatly increase and the number of bookings on each day will be reviewed weekly to enable us to maximise the number of people able to use the facilities.
Moray Council's booking system also currently restricts householders to one visit per 14-day period.