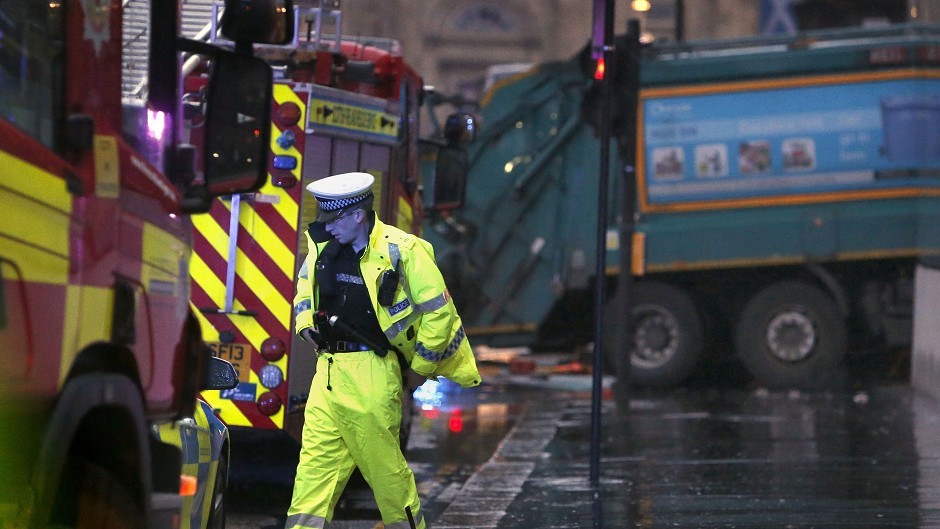 Furious Twitter users have reported a troll to the police after he posted a vile comment just an hour after a bin lorry careered into shoppers in Glasgow city centre.
Five females and one male were killed when the out-of-control lorry crashed into them on George Square at about 2.30pm.
Up to 10 more people were also taken to hospital with serious injuries, including the lorry driver.
But while thousands of people were taking to social networking sites to express their shock and sympathies for the victims, one Twitter user posted an offensive message – which has now gone viral due to the anger it created.
Twitter user Ross Loraine – who has now deleted his account – posted at 3.30pm:  "So a bin lorry has crashed into 100 people in Glasgow eh, probably the most trash it's ever picked up in one day that."
Other users of the social networking site have now reported him to the police, and called for him to be charged.
What an idiot @policescotland @rossloraine #georgesquare #whatanidiot pic.twitter.com/dhWDkaajvi

— Harry Govan (@WWEHarryGovan) December 22, 2014
#rossloraine absolute appalling joke regarding #GlasgowCrash Hang your head in shame young man!

— sharon (@shazzadolli) December 22, 2014
@policescotland can you do anything about vile tweets sent today from #rossloraine . should be arrested and charged

— Stephen Scott (@stephenscott72) December 22, 2014
https://twitter.com/SingIed/status/547137088270127104
@rossloraine you vile little boy. People lost their lifes today. People lost family members. Regret your pathetic actions now! #troll

— Nicola Lyons (@nicola2308) December 22, 2014
How inconsiderate @rossloraine What an absoloute troll. Never fails to suprise me how far people will go to get a laugh. #GlasgowCrash

— Sophie Hastings (@sophiemusic18) December 22, 2014
@policescotland please investigate @RossLoraine re criminally offensive posts on Twitter re George Sq tragedy. Also traceable via Facebook.

— Marco F Guarino (@MarcoFilippoG) December 22, 2014
6 people have died and more critically injured, how can human beings be so heartless at a time like this? absolute disgrace #rossloraine

— Lanna (@lankaglover) December 22, 2014