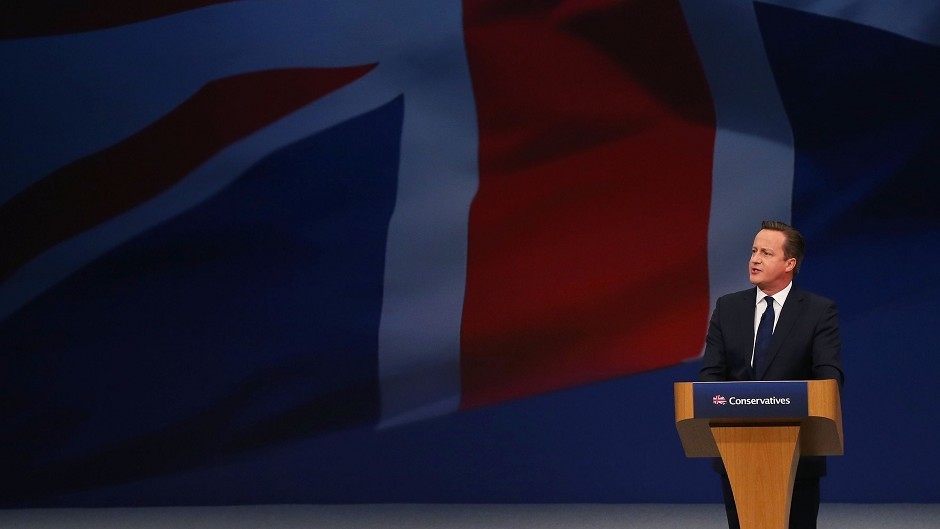 David Cameron branded Jeremy Corbyn "Britain-hating" yesterday as he vowed to spend the next five years tackling the "no-go zones" politicians "don't dare to venture".
The prime minister labelled the Labour leader "security-threatening and terrorist-sympathising", attacking him for comments made in the wake of Osama bin Laden's death.
In his strongest criticism yet, Mr Cameron told party activists the UK needed to be saved "from the danger of Labour".
Outlining his vision for a "Greater Britain", the Tory leader declared his love for "every part of our country" and pledged to "defend our Union with everything I have got".
But that was the only reference to Scotland in his 55-minute speech, which came after those of Scottish secretary David Mundell and Scottish Conservative leader Ruth Davidson.
Turning to Mr Corbyn, the PM said: "Thousands of words have been written about the new Labour leader.
"But you only really need to know one thing – he thinks the death of Osama bin Laden was a 'tragedy'.
"No. A tragedy is nearly 3,000 people murdered one morning in New York. A tragedy is the mums and dads who never came home from work that day. A tragedy is people jumping from the towers after the planes hit.
"My friends, we cannot let that man inflict his security-threatening, terrorist-sympathising, Britain-hating ideology on the country we love."
Mr Corbyn faced criticism during the Labour leadership campaign over the remarks made after bin Laden was killed in 2011.
But his use of the word "tragedy" referred to the fact the al-Qaeda chief had been assassinated rather than put on trial.
The Tory leader – who received seven standing ovations – pledged to spend the second half of his 10 years in power taking on the country's deepest social problems – poverty, discrimination and extremism.
He hailed the Conservatives as the party of social mobility, claiming Labour's ideas "hurt the poor".
"Every day, in every way, Great Britain lives up to its name," he said. "And I know this – we can make it greater still.
"A Greater Britain, where people have greater hope, greater chances, greater security."
He pledged to live up to the "greatest traditions of Conservative social reform", emphasising the importance of equality of opportunity.
Devoting a large section of his speech to extremism, he insisted there would be no more "passive tolerance" in Britain.
"For too long, we've been so frightened of causing offence that we haven't looked hard enough at what is going on in our communities," he said.
To that end, he announced that any institution found to be teaching intolerance would be shut down.
"If an institution is teaching children intensively, then whatever its religion, we will, like any other school, make it register so it can be inspected," he said.
"And be in no doubt – if you are teaching intolerance, we will shut you down."
The prime minister also briefly addressed the EU question, vowing not to "duck the fight" but "get stuck in" to fix the problems.
And he confirmed the UK Government's determination to press ahead with Trident renewal.