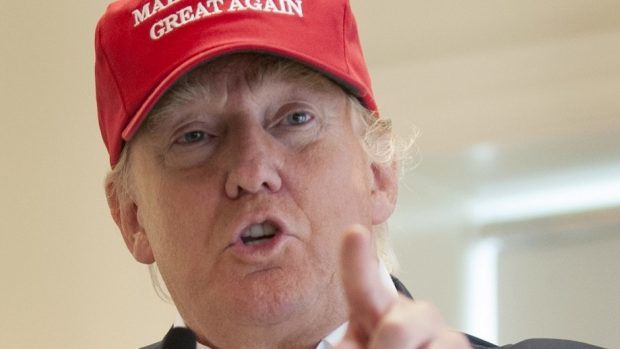 David Cameron has branded Donald Trump's call for Muslims to be barred from entering America "divisive, unhelpful and quite simply wrong".
The prime minister's spokeswoman insisted he "completely disagreed" with the comments made by the US presidential hopeful in the wake of last week's terror attack in California.
His unusual intervention came as the tycoon's critics compared him to Adolf Hitler and criticised his remark as "un-American".
Mr Trump is also facing calls for him to be barred from entering the UK as "hate preachers" have in the past.
And the Robert Gordon University in Aberdeen last night confirmed its principal is "considering the position" in response to demands the businessman's honorary degree be revoked.
But yesterday Mr Trump stood by his claim there should be a "total and complete shutdown" of Muslims entering the US.
He told an American TV station his proposal is "no different" to the actions of President Franklin Roosevelt whose wartime measures included putting Japanese-Americans in internment camps in the US.
Mr Cameron's official spokeswoman made the PM's position clear in a briefing to journalists at Westminster.
She declined to say whether Mr Trump's comments might lead to him being barred from entry to the UK under hate-speech laws.
But she added: "The prime minister completely disagrees with the comments made by Donald Trump, which are divisive, unhelpful and quite simply wrong."
The Downing Street statement represents a departure from the practice usually followed by British prime ministers of avoiding commentary on the merits of contenders in the US presidential race.
Mr Trump's views have sparked outrage across the north and north-east, with former Scottish secretary Alistair Carmichael calling them a "disgrace and an embarrassment to his party".
The Liberal Democrat Northern Isles MP added: "If the PM is sincere he should make it clear that Trump will not be allowed a visa to enter the UK.
"We have banned preachers of hate in the past. Trump should be treated no differently."
His appeal was echoed by SNP MP Tasmina Ahmed-Sheikh and campaigners opposed to the Menie resort, who have submitted a petition to the Westminster parliament. It is currently under consideration for inclusion on the parliamentary website.
Ms Ahmed-Sheikh, a practising Muslim, said it is "within the gift of the UK Government to deny access to people who are hate preachers and not conducive to the public good".
North-east Labour MSP Lewis Macdonald called the comments "ill-judged, unwise and self-defeating".
Glasgow MSP Patrick Harvie has lodged a motion at Holyrood condemning Mr Trump's "increasingly fascist" comments.
Following the San Bernardino shootings, Mr Trump issued a campaign statement calling for "a total and complete shutdown of Muslims entering the US until our country's representatives can figure out what is going on".
Fellow Republican nomination contender Jeb Bush called Mr Trump "unhinged", Jennifer Horn, chairwoman of the Republican Party of New Hampshire, said it was "un-American" and the Philadelphia Daily News likened Mr Trump to Hitler on its front page.
President Barack Obama described the 14 killings by a Muslim couple, believed to have been radicalised, as "an act of terrorism designed to kill innocent people".