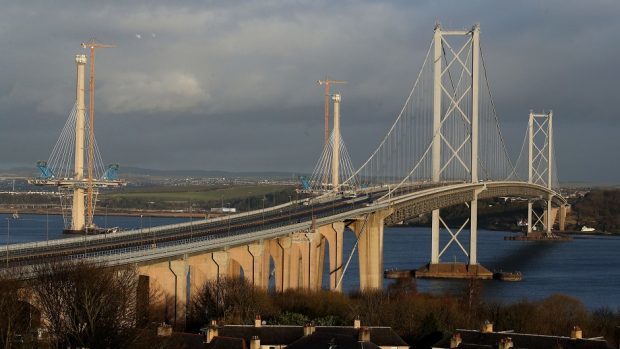 The Forth Road Bridge will reopen today – but remain closed to lorries for weeks.
The crucial crossing was shut to all traffic on December 4, causing chaos for commuters, families and businesses.
Work to repair a crack in the structure had been expected to be completed by the new year, but Transport Minister Derek Mackay announced yesterday that it had been finished ahead of schedule.
But in a "devastating blow" to haulage firms, he revealed the bridge would remain closed to heavier vehicles until at least mid-February.
Businesses across the north and north-east have been suffering as a result of the closure, with some freight companies in the region losing hundreds of pounds on journeys south.
Mr Mackay said: "I am pleased that we are now able to reopen the bridge to 90% of traffic, well ahead of schedule.
"Following rigorous testing and inspection of the temporary repair, experts have recommended the bridge is now ready to open to all traffic except HGVs."
Vehicles weighing more than 7.5 tonnes will not be allowed back on the crossing until permanent repair work is in place, which is expected to take six weeks, depending on the weather and no further defects being found.
Ministers said they would discuss with hauliers the operational support that can be offered during the period when they cannot use the bridge.
But they have said they will scrap an HGV priority lane on the current diversion, which runs over the Kincardine Bridge.
The Freight Transport Association's director of policy, Karen Dee, said First Minister Nicola Surgeon had offered reassurance that the bridge would reopen to all vehicles on January 4 and that yesterday's announcement was a "devastating blow for our members".
She said: "The additional costs incurred by the 50-mile diversion are significant, especially when contracts have already been signed and there is no opportunity to recoup the money.
"We need to ensure that everything possible is done to minimise further disruption for transport operators and, more importantly, get the bridge open at the earliest opportunity."
Scottish Labour's Jackie Baillie has demanded the Scottish Government outline what compensation will be made available to hauliers as a result of the closure.
Mr Mackay said there was "no choice" but to keep the bridge shut to HGVs.
He said: "While HGVs account for 9% of overall traffic on the bridge, they represent 32% of the weight the bridge carries.
"We therefore have no choice but to accept the recommendation of the engineers."
Chartered engineer Mark Arndt, of bridge operator Amey, said: "Public safety has been at the heart of everything we've been doing and work will be progressing over the coming weeks on the additional strengthening works required to enable HGVs to start safely using the bridge."