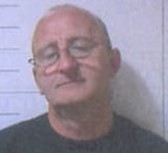 Police have appealed for information after a convicted murderer failed to return to a Scottish prison.
John McDermott Wilson, aged 50, failed to return to HMP Gateside in Greenock following unescorted leave on Friday 15 January 2015.
He was last seen outside Central Station in Glasgow around 4.05pm on Friday. He was convicted of murder in 1991 and is serving a life sentence.
He is described as around 5 ft. 5 inches in height, medium build, fair complexion, brown, thinning hair, blue eyes and is clean shaven. He also has a small scar on his lower lip.
When last seen, he was wearing a blue jacket, grey sweatshirt, blue t-shirt, navy jeans, black boots and a black beanie hat.
Officers have been carrying out extensive enquiries to trace Mr Wilson, but attempts to locate him have so far proved unsuccessful. If you see John Wilson, do not approach him but contact police.
Anyone who has seen John Wilson or who has information or knowledge as to his whereabouts is asked to call officers at Greenock Police Office on the non-emergency number, 101.