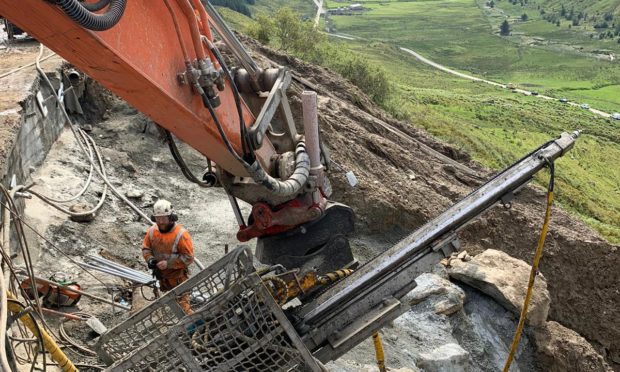 A new road along the existing route at the Rest and Be Thankful has been hailed the only "realistic" permanent solution to the landslips which continue to cut off a huge part of Argyll.
That was the unanimous decision taken by Argyll and Bute Council yesterday, when the authority called for the work to be treated as a priority.
The A83 Campbeltown to Tarbet road has been hit by numerous landslips at the notorious hill pass since a major one there this summer.
Now the Scottish Government is consulting on 11 possible options to deal with the problem.
One option offers a permanent solution within a proposed 1.24mile wide corridor along the existing A83 at the spot.
The council agreed that this option is the most realistic of the 11 proposals.
Robin Currie, council leader, said: "After careful consideration of all the options presented in the consultation, the only realistic solution to prevent further disruption to this major trunk road in and out of Argyll and Bute is to look at option one.
"After years of disruption, we now have the promise of a permanent solution but we also need a commitment that our preferred option can be delivered within the term of the next Scottish Parliament.
"We need a solution to be delivered as soon as possible in order for it to provide uninterrupted year-round access that Argyll and Bute needs and deserves. It is one thing looking at options, we now need a firm agreement regarding when work will start."
The options presented by Transport Scotland range from a new route which follows the existing road, to proposals which include building fixed links across Loch Fyne, Loch Long, the Firth of Clyde, Gare Loch and to the Isle of Bute.
In addition to urgent work needed at the Rest, the council is also calling for work to improve alignment, drainage and flooding issues elsewhere on the A83.
The Scottish Government consultation ends on October 30.
An emergency diversion route along the Old Military Road is currently used when heavy rain causes a landslip risk.
The Old Military Road local diversion route was operated from 6pm last night due to a further period of heavy rainfall expected in the early hours of the morning.