Aberdeen rappers SHY & DRS film video with young actors in Peterhead to launch first single from second album
By
Kathryn Wylie
October 23, 2020, 6:10 am
An Aberdeen hip-hop duo's latest single and video has gone viral thanks to some local little actors and a north-east farm.
Mark James Scott and Darren Scott, better known by their stage name SHY & DRS,  released their first single from their second album Act Your Wage last week.
And, after enlisting the help of three budding young actors from Aberdeen and the owners of Windfold Farm, near Peterhead, it's gone on to become an internet sensation.
The 35-year-old twins, who grew up in Torry, are renowned for rapping in Scottish accents and have often been quick to hit back at any negativity their northern twang attracts.
Their latest release, Flex, follows that theme and has been released independently of any major music label.
Darren said: "It's a light-hearted and fun song about the negativity and judgement some people seem to give you automatically when they find out you are pursuing your dream or passion in life.
"As in, they have little digs or put downs rather than being supportive.
"We have experienced this being the first artists to do Scottish hip hop."
The video, which attracted 30,000 views in its first week online, features three child actors from Aberdeen Academy for Performing Arts, who dressed as cowboys and mimed along to the lyrics while throwing cash around, playing on Martin and Jackie Horne's farm and hanging out with alpacas and Highland cows there.
Darren added: "They loved it and they did a much better job than we could have done, especially carrying off the cowboy outfits.
"They had a right laugh and we enjoyed having more time to direct rather than having to perform like we usually would."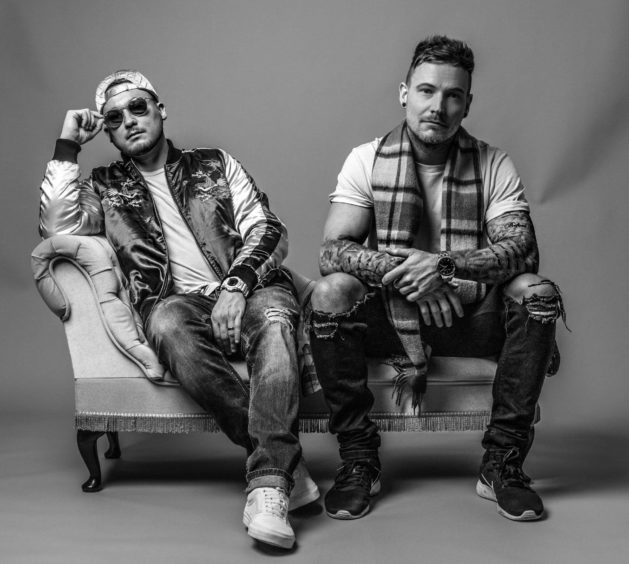 Not just an Aberdeen collaboration, though, the chorus is sung by Australian country star Josh Setterfield and a TikTok app dance challenge for the song has received hundreds of entries including some from as far afield as Ukraine, Spain and Australia.
Darren wrote the duo's latest album while furloughed during lockdown. His brother, Mark, meanwhile contributed between creating graphic designs and marketing for US rapper The Game.
SHY & DRS has appeared on The X Factor and released music with the likes of Sandi Thom and Nazareth  as well as scoring four top 40 hits on the Scottish Singles Chart since 2012.