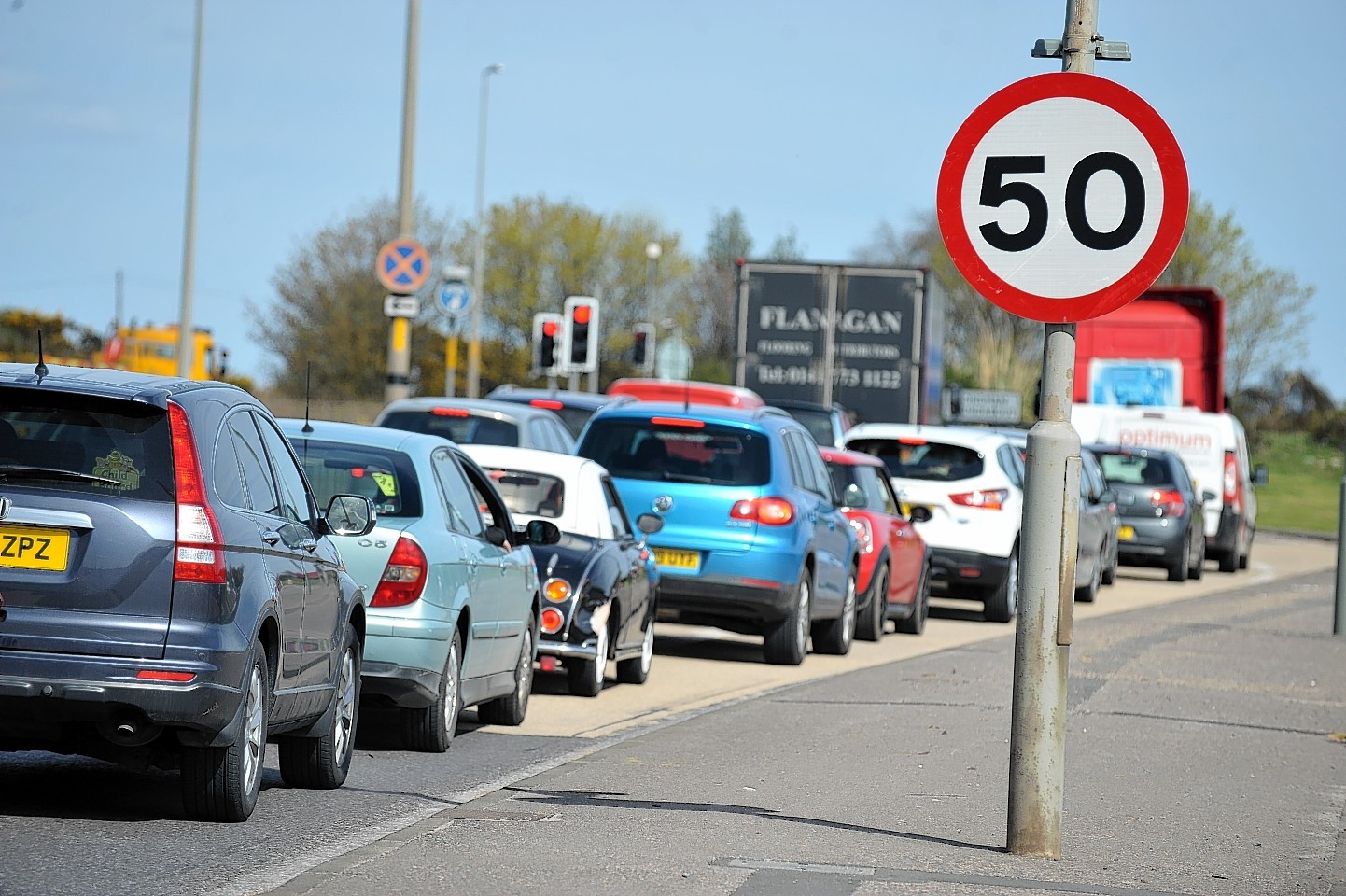 Radical proposals to end traffic jam misery for thousands of motorists have been unveiled by roads bosses.
Business leaders and commuters have hailed the plans to get rid of a notorious A9 bottleneck in Inverness.
Transport Scotland wants to redesign the Longman roundabout – near the Kessock Bridge – where traffic lights regularly lead to long tailbacks of vehicles.
Under scheme tabled by the agency a roundabout would remain, but the A9 would cross it on a flyover, similar to the set-up at the Raigmore interchange a mile to the south.
The move, known as "grade separation", was welcomed by motorists and the business community yesterday amid calls for work on the revamp to start as soon as possible.
The scheme could cost about £50million and is part of a wider multimillion-pound package of changes along the A9 being proposed by Transport Scotland.
In recent years the Longman roundabout has become a pinch point at peak times, with long queues of cars, vans and lorries regularly building in all directions.
Traffic lights were installed in 2013, at the same time as a major resurfacing project on the Kessock Bridge.
But they caused chaos within days of being switched on.
Things were so bad a local group set up a website called Get Rid of the Kessock Bridge Traffic Lights – which now has more than 2,700 members – to vent the frustration felt by many motorists.
One Black Isle commuter Richard Merrell, 50, of Culbokie, said yesterday: "The lights do not work.
"A flyover should have been built in the first place. It makes a lot of sense."
And Stewart Nicol, chief executive of Inverness Chamber of Commerce, said: "I know the Longman roundabout problem is a significant challenge for the city and it is good to see a solution at last.
"Why couldn't it have been built in the first place?
"A flyover is a really good solution and I would like to see it done as soon as possible.
"The city and the Inner Moray Firth has had significant growth in population and business in recent years but the transport infrastructure has stayed put."
The outgoing chairman of Highland Council's planning, development and infrastructure committee, Thomas Prag, said the hope was that the Longman scheme would happen "sooner rather than later" using City Deal money.
He added: "It is economically important and will open up land for development.
"It is a clogged artery just now."
Meanwhile, Transport Scotland has also named its two preferred options to link the A9 Inverness-Perth road and A96 Inverness-Aberdeen route.
Th4 project would connect the trunk route using a single carriageway distributor road.
The Longman and Inshes schemes together could cost between £90million-£145million.
Detailed design work is now being carried out and consultations will be held later in the year.
Infrastructure Secretary Keith Brown said: "The Scottish Government wants to see improvements to our roads infrastructure right across the country to help support Scotland's economy, and better connect our cities.
"Transport Scotland has worked closely with the Highland Council to consider how best to separate local trips from those on longer distance journeys and listened to local feedback.
"The study is also recommending grade separation of the A9-A82 Longman roundabout, which will offer significant benefits, including road safety and journey time improvements, to those travelling on the key strategic routes of the A82, A9 and A96."