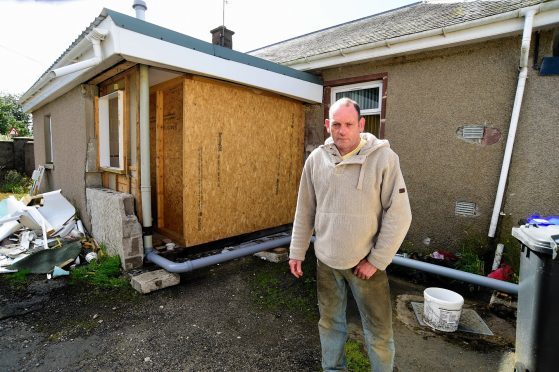 A north-east man living in a caravan after a car ploughed into his home has called for an urgent safety review of the accident black spot after another serious crash.
William Fulton lives in Plaidy alongside the notorious A947 Banff to Aberdeen commuter route and says his family are living in fear.
Earlier this summer, 58-year-old Leslie Stuart died when the car he was a passenger in veered off the A947 and hit Mr Fulton's home. The driver broke his leg.
In the aftermath of the tragedy, Mr Fulton raised concerns that his family and others who live near the road are "sitting targets".
And last night – after two women were taken to hospital following a crash just yards away – he called for for a full safety review into the road.
"I'm trying to get the council to put up speed cameras and reduce the limit," the full-time carer said.
"There is no deterrent for people to slow down. We missed the tragic crash earlier this year by just 10 minutes. If someone was sitting in that bathroom, they would have been dead as well.
"We were lucky ultimately – look at what happened to the person in the car. How many deaths and accidents is it going to take before people wake up?"
Local authority transportation chief Ewan Wallace said: "Aberdeenshire Council has a long term strategy to address issues along the A947 between Banff and Aberdeen.
"Our infrastructure services committee made a decision in March to develop detailed proposals for improvements along the route. Once fully developed, these will have to be considered and prioritised alongside other important local projects."
On Monday, a woman was airlifted to Aberdeen Royal Infirmary after a two-car crash near Mr Fulton's home. The woman in the other car was also taken to hospital by road ambulance. Neither woman's injuries are thought to be life-threatening.
The bends at Plaidy, four miles north of Turriff on the A947, have claimed two lives in the past 18 months.
Mr Stuart's death in June was preceded by the death of 54-year-old biker John Ogston who was killed in a collision with a car just yards from the Fultons' home.
Recent figures from Aberdeenshire Council have shown there have been 20 fatal incidents on the A947 between Aberdeen and Banff since 2005.