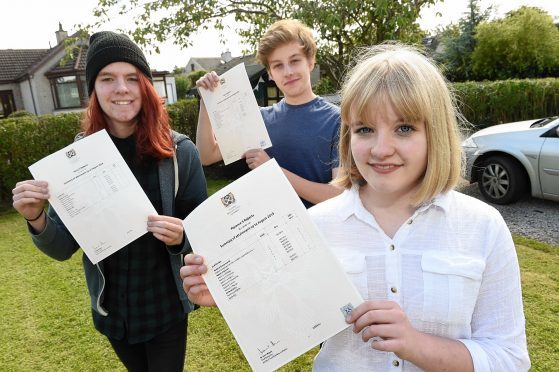 A set of north-east triplets were leaping for joy yesterday after earning a combined 15As, two Bs and a C in their exams.
Felix, Flossie and Harry Roberts were among the thousands of pupils nervously awaiting their results, which overall in Aberdeenshire showed a rise in passes across each year group.
And when the results dropped arrived in Insch, the trio were delighted at their achievements.
The 16-year-olds, who are at Gordon Schools in Huntly, thanked their teachers for helping them achieve their results – while their mum admitted the siblings' natural "competitiveness" had spurred them on while they were revising.
Flossie, who is aiming to study music when she finishes school, picked up six As in her subjects: "It was definitely what I was hoping for, but not what I expected.
"I think it helped that we were all able to support one another, and understood what we were going through. The teachers have all been very supportive – without them I couldn't have completed these National 5s."
Felix, who is working towards studying engineering at university, said he and his siblings were "so happy" about their results, while Harry added: "It was good to have my sister and brother with me during the exams – you can always rely on them through the stress."
Proud mum Jo said the family would be celebrating with a chocolate cake before planning for the future.
"What a great day all round," Mrs Roberts said. "We're absolutely delighted they got their results – it's a shock it's gone so well.
She said revising as triplets had proved to be a "double-edged sword" for her children, adding: "The added competitiveness helps, but it can be quite destructive as well. The reason it's gone so well is because they've helped each other."
The percentage of S4 pupils awarded five or more National 5 qualifications this year stands at 48%, a 3% rise on 2015.
Councillor Alison Evison, chairwoman of Aberdeenshire Council's education committee, said: "Senior pupils in Aberdeenshire have put a huge amount of work into studying for these exams and I hope they see that paying off today as they receive their results.
"These results will come at pivotal points in many young people's lives, but it's important to remember they are not the end of a path but the start of a new journey."