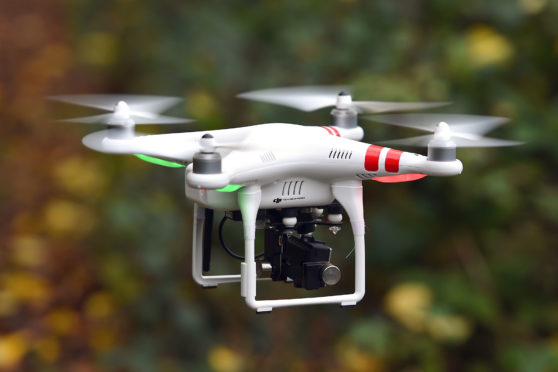 Departures at London's Heathrow airport were halted following a drone sighting this evening, delaying flights for potentially hundreds of north-east passengers.
Two flights, code-sharing with several international airlines, were scheduled to leave the airport for Aberdeen this evening, but are likely now be delayed because of the runway closure. The full list of affected journeys is below.
Just after 5.30pm a Heathrow spokesman said: "We are responding to a drone sighting at Heathrow and are working closely with the Met Police to prevent any threat to operational safety.
"As a precautionary measure, we have stopped departures while we investigate.
"We apologise to passengers for any inconvenience this may cause."
The airport announced flights would be resuming at around 6.30pm.
Airlive tweeted a photo of the drone from a webcam feed of the international airport.
BREAKING All departures suspended at London Heathrow due to drone near runway 27R. Live: https://t.co/6jgc4tO4FR pic.twitter.com/qWBMWiu5zO

— AIRLIVE (@airlivenet) January 8, 2019
Affected flights
The following flights were scheduled to fly from Heathrow to Aberdeen this evening, but may be affected by the drone investigation.
8.20pm – Terminal 2
Operating as:
AI6158 Air India
BE2128 FlyBe
CX9355 Cathay Pacific
EK4285 Emirates
EY6077 Etihad Airways
SQ2490 Singapore Airlines
VS8528 Virgin Atlantic
8.25pm – Terminal 5
Operating as:
BA1318 British Airways
IB7535 Iberia
LA5566 Latam
MU8773 China Eastern
QR6005 Qatar Airways