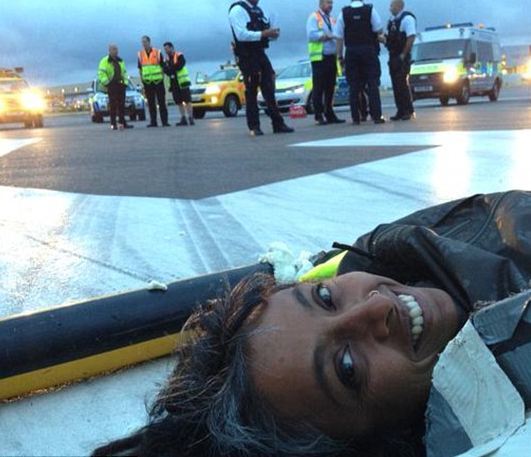 Travelers world-wide faced major delays yesterday after climate change protesters chained themselves to railings on the north runway at Heathrow Airport.
A dozen members of the group, Plane Stupid – who are opposed to plans for a third runway – cut through a perimeter fence around 3.30am.
They posed for selfies while police tried to prise them apart and drag them off the tarmac.
Twenty-two flights out of the airport had to be cancelled, while police said Heathrow could lose millions of pounds as a result of diversions and cancellations.
At Aberdeen Airport, one early morning flight from the Granite City to London suffered a "minor delay".
Last night, the group apologised to those whose travel plans they had ruined.
But they said the UK cannot keep ignoring the "terrifying consequences" of "flying like there is no tomorrow".
Ella Gilbert, one of the activists who stormed the runway, said: "Building more runways goes against everything we're being told by scientists and experts on climate change.
"This would massively increase carbon emissions exactly when we need to massively reduce them.
"We want to say sorry to anyone whose day we've ruined, and we're not saying that everybody who wants to fly is a bad person.
"It's those who fly frequently and unnecessarily who are driving the need for expansion.
"No ifs, no buts, no third runway. And we mean it."
At the scene of the protest in the early hours, officers could be heard telling the protesters what upset they were causing.
"As a consequence of you being here you are causing severe disruption and it will be in the millions of pounds because it will take us a while to remove you," he said.
"The cost will be in the couple of millions. The airport will attempt to make a civil recovery."
Last night, a police spokesman confirmed nine people had been arrested.
"At approximately 3.45am officers were alerted to a number of protesters who had made their way airside at Heathrow Airport. A small number of these protesters are believed to have chained themselves to a 'tripod'," he said.
Plane Stupid has become notoriously famed for its often high-profile, disruptive protests.
In 2010, nine members brought Aberdeen Airport to a standstill and
triggered a major alert after breaching security and barricading themselves inside a wire "fortress" on the tarmac.
The group said the north-east airport had been chosen because of the group's opposition to US developer Donald Trump's plans for a £750million golf resort near Balmedie.
The airport shutdown cost nearly £150,000 – but all the activists walked away from Aberdeen Sheriff Court with fines of less than £1,000.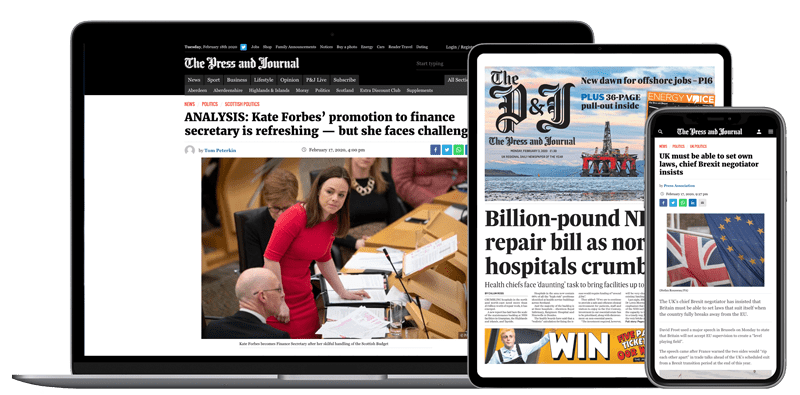 Help support quality local journalism … become a digital subscriber to The Press and Journal
For as little as £5.99 a month you can access all of our content, including Premium articles.
Subscribe