A dim-witted shoplifter was caught after going to a police station to complain about the circulation of his CCTV image.
Roofer Nicholas Allegretto was filmed by security cameras installed in the Mackays hardware store in Cambridge after stealing an industrial magnet.
The store put up his picture with his face obscured and the image was later posted on Facebook and printed in the Cambridge News newspaper.
Instead of lying low, the 23-year-old went to the city's Parkside police station, angry that the picture had been published. He was arrested and prosecuted.
Shop owner Neil Mackay said: "I suppose you could say he wasn't the sharpest tool in the box."
Mr Mackay said he had originally put up the picture, taken on one of the store's 30 cameras, to warn the thief against striking again and so that staff knew what he looked like.
Two lines were put over Allegretto's face, meaning he could not easily be identified.
"I was so frustrated that I had to do something to at least make thieves aware we take it seriously," Mr Mackay added.
"I didn't really expect him to be caught so I couldn't believe it when I heard he had rocked up at the police station and identified himself – you've got to laugh really."
Allegretto, of Ditton Fields, Cambridge, was convicted of theft in his absence at Cambridge Magistrates' Court on Wednesday. He will be sentenced at a later date.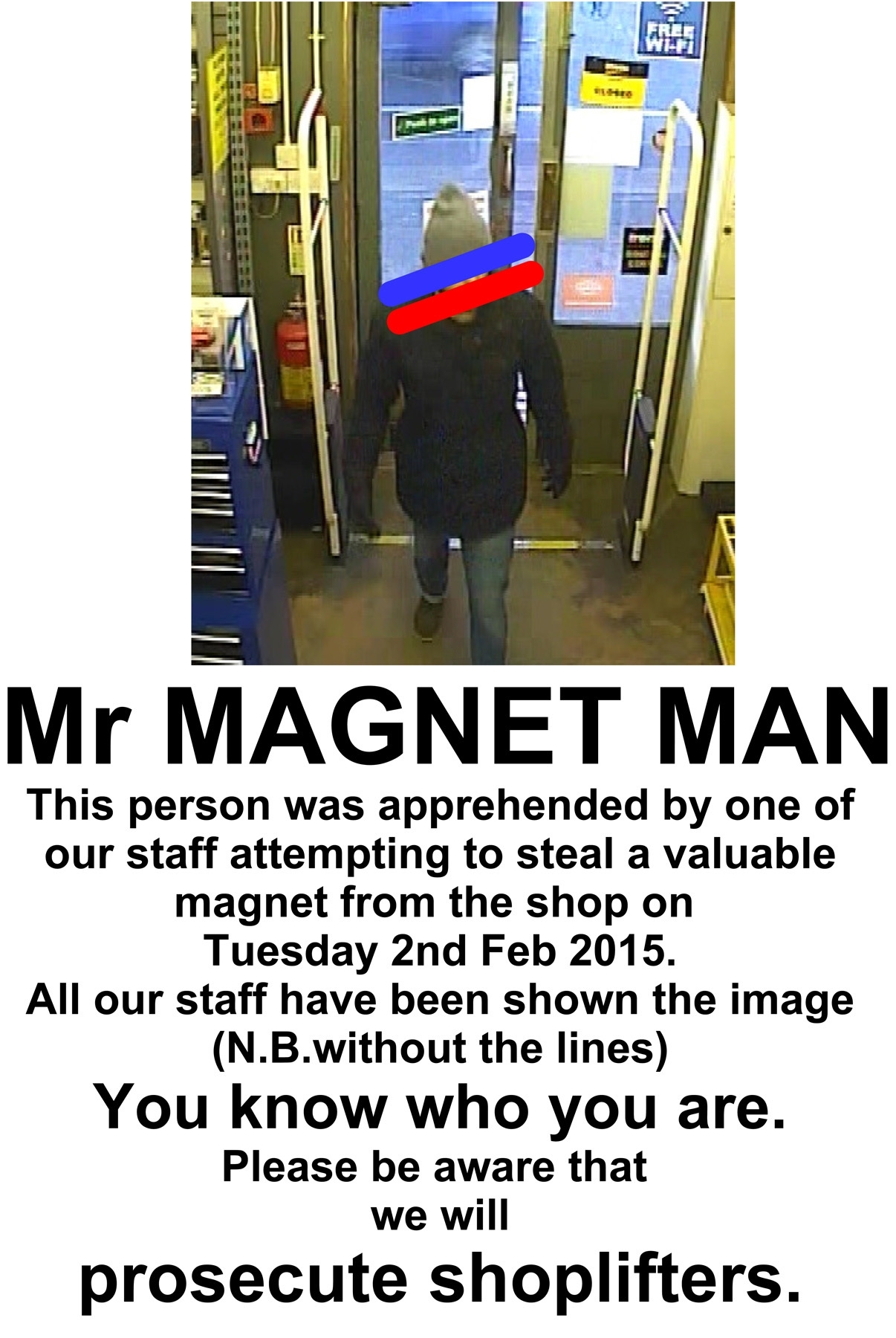 The court heard he stole the £23 magnet on February 2.
According to the Cambridge News, asked by police why he had come to the station, Allegretto told officers his family had noticed his image and he had lost his job at a roofing company as a result of the rumours.
Mr Mackay, who has a rogues gallery of thieves in his store, said: "The magistrate had a sense of humour and commented that he couldn't imagine what had attracted Mr Magnet man to the police station.
"We've now got a new addition to our rogues gallery and hopefully this will show people that we're not a soft touch."