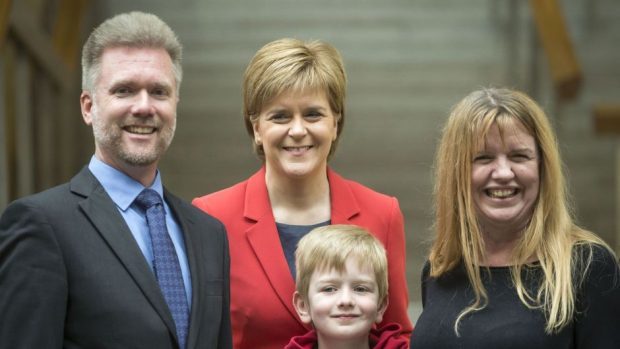 The UK Government was facing a storm of criticism last night as time ran out for an Australian couple battling to stay in Scotland.
Politicians and actor Tom Conti rallied round the Highland-based Brain family as the deadline to submit a new visa application lapsed.
Gregg, Kathryn and seven-year-old Lachlan Brain – whose first language is Gaelic – were given an 11th-hour reprieve in May when their leave to remain was temporarily extended.
But their grace period to meet immigration requirements ended at midnight and they now face deportation.
Barring a last-minute intervention from the Home Office – or the offer of a qualifying job – the family will have to take immediate steps to leave the UK.
Mr Brain said he had been physically sick at the prospect of having to return to Australia "homeless, jobless and significantly in debt".
But he added the family remained hopeful of "some flexibility" as new immigration minister Robert Goodwill had been "quite approachable and solution-oriented".
The family came to Scotland as part of a government initiative in 2011 and had intended to move from Mrs Brain's student visa to a two-year post-study work visa.
But the UK Government announced it would be scrapping the latter just months before they arrived, and went ahead with the plans in 2012.
The Brains, who have had to move four times in recent months, have since been trying to apply for a Tier 2 visa, for people from outside the European Economic Area who have been offered a skilled job in the UK.
Their hopes rose earlier in the summer when Mrs Brain, who has a degree in Scottish history and archaeology, was offered a temporary post at the community-run GlenWyvis distillery project, near Dingwall.
But it was later withdrawn as she did not have a work permit and the job did not fulfil the necessary criteria.
In a final attempt to find a solution, SNP politicians Ian Blackford and Kate Forbes yesterday urged the Westminster government to transfer Mrs Brain on to a new scheme being piloted at selected universities in England.
Mr Blackford, the Ross, Skye and Lochaber MP, described the pilot south of the border as an "unacceptable snub" to Scotland which added "insult to injury".
But the Home Office dismissed claims it amounted to a reintroduction of the post-study work visa.
In a separate intervention, Mr Conti warned the Home Office to "behave properly" and not in a way that would be expected of the "Soviet Union or Iran" when the family had moved to Scotland "in good faith".
He also pledged to provide money to ensure the family maintains a minimum balance in their bank account in order to meet visa requirements.
The prime minister's spokeswoman confirmed yesterday that no new application had been lodged with the Home Office during the extension.
She said: "We recognise the strength of feeling on this case, but there is a need to obviously follow the rules, follow the process."
Mr Brain said he and his wife were just "hoping and praying" an employer would come forward with a suitable job offer to enable them to complete another application.
He added: "Obviously what we are still wanting is for the UK Government to honour the promise it made to us six years ago when we committed to coming over here."
A Home Office spokesman said: "All visa applications are considered on their individual merits, and applicants must provide evidence to show they meet the requirements of the immigration rules."