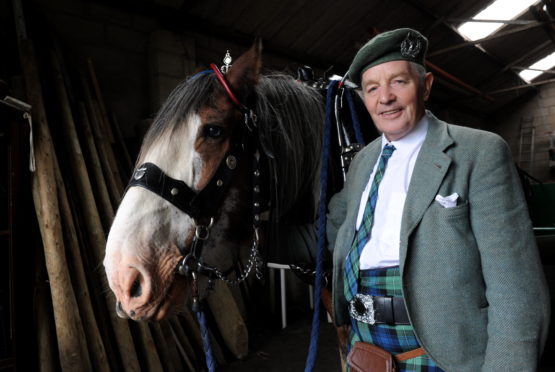 A stalwart figure involved in one of Scotland's oldest Highland games has died, aged 83.
Willie Gray brought up the rear of the famous Lonach Highlanders march with his faithful horses for decades, ever since he "fell into the role" of Lonach Horseman in the early 1970s.
Mr Gray, who farmed in Corgarff for 46 years, even continued in the position after his retirement around seven years ago.
The honorary member of the Lonach Society was known by his friends and family – as well as most of those he met at the annual Lonach Gathering – as a fantastic storyteller.
He always enjoyed stopping for a blether after he made his way along the six-mile journey behind the Highlanders to the central arena in Bellabeg.
Mr Gray's son Derek said his father took his job following the tartan-clad clansmen on their nearly 200-year-old march through Strathdon very seriously, and was proud to maintain the tradition.
And now, the reins of the Lonach Horseman have been passed from father to son – as Derek now fills the role with his own horse, Socks.
Derek, 52, said: "They didn't have a horse, and that's how my father fell into the role, because he had one called Donald that was going spare.
"He came back the year after, and was involved with Lonach for basically the rest of his life.
"And now I've slipped into the role, and this will be my fifth year with my horse Socks.
"It was something he really enjoyed doing. He liked the attention, and liked speaking to folk and telling them stories – but you were never ever sure if his stories were 100% accurate, or just 100% accurate according to him.
"My eldest son will be marching for the first time this year, so it's good to be handing these things down the line.
"I would think he might take the horse one day in the future, but we'll see about that."
Mr Gray added: "He loved being a grandfather.
"We were speaking about our favourite memories of him, and my son brought up the time when they were little wee kids and he was trying to teach them to whistle.
"He'd whistle so hard his false teeth would fly out of his mouth onto the floor. He really had fun with them."
Mr Gray died on Friday morning.
He is survived by his wife Agnes of 57 years, three children, 10 grandchildren and two great-grandchildren.