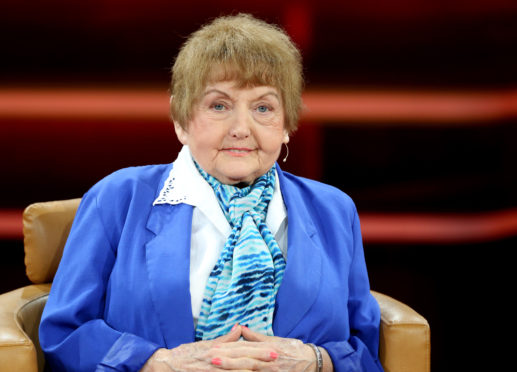 After being experimented on and tortured by the Nazis as a child, Eva Mozes Kor found a way to forgive them for their actions and asked others to do the same.
Born in Romania in 1934, Kor was taken to the Auschwitz concentration camp in Poland when she was 10 years old.
Her mother, father and two of her sisters were killed – but she was spared along with her twin sister Miriam.
The girls were just one of more than 700 sets of siblings subjected to cruel and dangerous experiments by Nazi doctor Josef Mengele, who was also known as The Angel of Death.
For months the twins were given regular injections of mysterious substances which, at one point, made Kor so ill she was told she had just weeks to live.
After the camp was liberated in 1945, the sisters moved back to Romania then emigrated to join the Israeli army as teenagers.
It was there that Kor met her husband Michael, a US citizen and fellow Holocaust survivor, and the pair moved to Terre Haute in Indiana.
After seeing a television documentary about the horrors of the Second World War, Kor felt the need to explore her past and help others who suffered as she had.
In 1984 she founded Candles, the Children of Auschwitz Nazi Deadly Lab Experiments Survivors, and began speaking publicly all over the world.
Kor wrote a letter to an acquitted Nazi doctor forgiving him for what he had done and, later, penned a column about "why forgiveness is the best revenge of all" – accompanied with a photograph of the two embracing.
In 1995 Kor opened a Candles museum in her home town. It receives more than 7,000 visitors every year.
As part of her work there, she revisited Auschwitz every year to share her story with others.
The 85-year-old died in Krakov, Poland – where she was staying as part of her annual journey – yesterday.
The Candles museum will be closed until Tuesday in her honour.
A spokesman said: "The themes of Eva's life are apparent.
"We can overcome hardship and tragedy. Forgiveness can help us to heal. And everyone has the power and responsibility to make this world a better place.
"We hope Eva's story continues to change the lives of those who hear it for many years to come."
Indiana Governor Eric Holcolm said: "Everywhere she went, Eva brought light into darkness and provided comfort to those in pain unlike anyone we've ever met.
"From her against all odds survival as a young girl in Auschwitz to her peace spreading message based from home in Terre Haute, her relentless and optimistic example inspired the world."