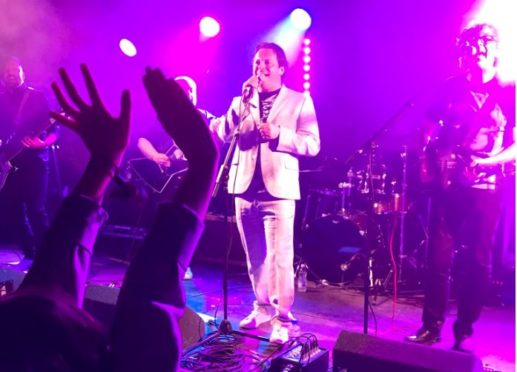 I suppose you would call it a boyhood dream, if one fulfilled gaspingly late: me, on vinyl (and CD and iTunes and Spotify) with my band.
I'm even on the cover of the Fat Cops record. It may not be the most flattering picture – a selfie taken seconds after coming round from hours of surgery on a badly broken arm, the morphine at its height and the oxygen mask still in place – but hey, mum, I'm on the front of an LP!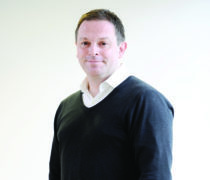 Fat Cops must be among the odder musical outfits ever assembled. We can't really remember how it happened – how Fat Cops came to be. It just sort of did.
Our drummer is Al Murray, the Pub Landlord (he's been drumming since he was a boy and is brilliant). Our guitarist is Bobby Bluebell – the man who wrote The Bluebells' number one single Young at Heart; he has also worked with Brian Wilson, Bananarama, Sinead O'Connor, Ian McCulloch, Texas, and countless others. We have a second guitarist, a bass player and a keyboard player. And then there's me. I'm the singer.
From this last fact you probably think I'm some kind of extrovert show-off, the type who likes to skip around the stage in facepaint and a striped leotard with a pair of socks shoved down the front.
Actually, the opposite is true. I'm inhibitingly shy and introverted.
When we played our very first gig this summer, at the Kendal Calling festival in the Lake District, I was so nervous my top lip stuck to my teeth and I clung to the microphone stand like a shipwrecked sailor to driftwood in a stormy sea. The rest of the band went on first and I genuinely thought about doing a runner. I stood backstage watching a video of David Bowie being all cool and relaxed performing Absolute Beginners, hoping it would rub off.
It didn't rub off. The next half hour was one of the most traumatic experiences of my life.
Our second gig, at the Edinburgh Fringe in September, was better. OK, I dropped the microphone halfway through one song and had to go scrabbling around the grimy floor after it, but it was after midnight and everyone was drunk, so I got away with it. The audience was full of well-known faces – comedians, writers, musicians, even politicians, like Stella Street on a group night out – who performed a quite preposterous and intriguingly diverse array of bad dancing throughout, so I didn't feel too out of place. We were joined on stage by our friend Norman, who plays in Teenage Fanclub and who has done backing vocals for our record, and in the end it all felt very groovy.
Now, next March, comes the album. And I don't quite know how to put this – we're… actually pretty good. Surprised? You and me both. But it all fits together in an interesting way. What do we sound like?
The publicity describes it as "hip-shakin', garage-groovin', punk-glam chaos" and Fat Cops as a "much-needed party band in these troubling times", and that's not far off. We write songs about that curious, shifting blend of uncertain swagger and crushing self-doubt that defines modern masculinity.
Mojo, the venerable music magazine, calls our song Hands Up! Get Down! "a hazy summer groove for pants-swingers of all ages", and says "if Black Grape had favoured Crunchies instead of crack they might have sounded this sweet." I'll take that. And I promise not to take crack, or anything stronger than aspirin.
In truth Fat Cops has been one joyful, extraordinary experience after another. There's the making music bit – thanks to The Beast From The East we were snowed in for a week in a studio on the south side of Glasgow recording the album. There's hearing yourself on the radio, which is both horribly exposing and utterly thrilling. There are those moments on stage when everything just clicks, and both band and audience sense it.
And then there's the gigantic tour bus we hired for a laugh to take us from Glasgow to Kendal. Turned out the last people to use it had been Guns 'n' Roses, who, being Guns 'n' Roses, had bought so much booze there was gallons of it left over, so after the gig we got drunk on Axl Rose. There was getting your "artist" wristband at the festival, and finding yourself in a tent eating a free burrito next to Rick Witter from Shed Seven. It may not be hanging with Mick n Keef n Marianne at the Villa Nellcôte, but nor is it sitting in the office watching the clock shuffle slowly to day's end.
One hip London DJ accurately described us as "old enough to know better". But come now, who ever had any fun knowing better? Will anything come of it all? Probably not. But who cares. I'm old enough to know better.