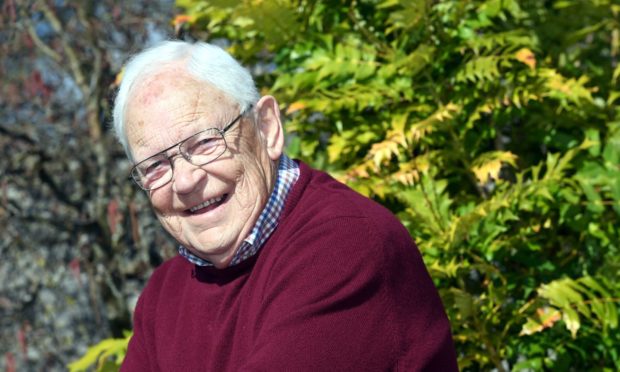 That's it over for another year!
Yes, the reference is to Gardening Scotland, our major three-day gardening show of the year, held at the Royal Highland Showground.
This year, we celebrated our 20th anniversary and I am chuffed to have been at every one of them, though time spent nowadays is restricted.
On the opening day, I was delighted to join Beechgrove colleagues Carole Baxter and George Anderson, and from south of the border, Martin Fish, representing the Royal Horticultural Society for a Gardeners' Question Time.
It was a standing room only session which could have gone on for another hour, but we have become used to that situation.
At the end of the session, I had to break the bad news about Beechgrove.
After the first seven programmes were shown, the programme goes off air until late July when they start another run of seven programmes.
I think the very loyal viewing gardening public have been betrayed by BBC Scotland.
There are two points to be made…
Firstly, I had made my decision to retire before this information came through, making me realise that I "just got out in time".
The second point to make is that this has nothing to do with Tern Television and their outstanding producer/director Gwyneth Hardy.
Programme content has been, and still is, first rate, and appropriate to Scottish conditions.
Why move it to the new channel when it was fine on BBC2?
In the meantime, there is a veritable host of gardening programmes made in the south broadcast into Scotland every week, summer and winter.
There will be a total of 14 programmes, reduced from 26 which covered our growing season nicely, but what do these guys in Glasgow know about common sense, let alone horticulture?
I must get back to the garden show.
I am always on the lookout for new plants and the commercial stands this year were full of them.
I'll mention just a couple.
Rehmannia "Polina" is classified as a half hardy perennial (HHP), sometimes referred to as the Chinese Foxglove, and very striking.
Not surprisingly, this beauty, bred by Brian Young, of Holmes Farm Plants, was voted Best New Plant. Like some of our other HHP favourites, such as Dahlias and Salvias, they need to be lifted in the autumn, potted up and kept indoors until the following spring.
The other belter was the striking Arisaema candidissima, referred to as the Striped Cobra Lily and said to be hardy to -20C, loves a bit of shade and a fertile soil.
Methinks I will be getting the chequebook out.
Couldn't help stopping by the Caulders stand.
The colours were superb, but it was the wee Grey Fergie Tractor that caught my eye, and then within a few yards was the mobile garden workshop, specialising in lawns.
It isn't always a serious subject, there is always time for a bit of a giggle.
On a more serious note, Brian Hutchison was voted Gardener Of The Year and Toni Elliot Young Gardener Of The Year and the competition was sponsored by Caulders. I didn't see much of the outside – apart from a lack of time, it was "chucking it down" for a while.
That said, I must mention the pallet garden competition – it just gets better and better.
The People's Prize went to the worthy folk in North Berwick who do such a fine job for their town in the Britain In Bloom Competition.
Prize for Best Student Garden Street Show Garden went to SRUC Edinburgh, and coming a little nearer home, Northern Lights Flower Club from Insch won the best exhibit in their class.
Numbers at the show might have been affected by the indifferent weather on the opening day, but frankly there seemed to be a real buzz on Friday, but I believe Sunday might have suffered.
The final count, however, showed attendance figures were up on last year.
A hearty round of applause goes to the organisers – Rural Projects.
I couldn't possibly end my report without a mention of the stalwarts of the National Vegetable Growers Society, where I usually get my leek plants.
If you want to understand the meaning of the word "dedication", you have to watch these guys and gals putting together their display.
The energy of some of them, born in the middle of the last century, is quite remarkable.
My hat comes off to them for their hard work, dedication and horticultural skills.