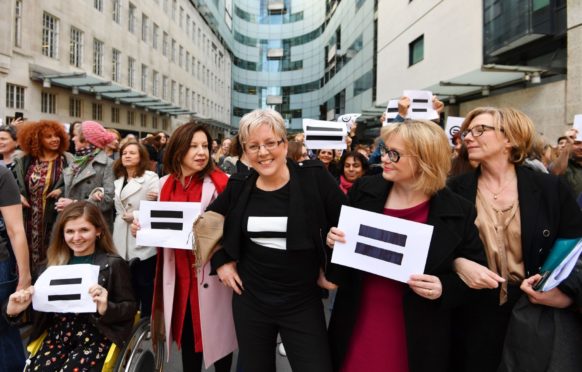 Next week, around 400 people will gather in Piccadilly for the midnight launch of The Testaments, Margaret Atwood's Booker nominated sequel to her dystopian novel, The Handmaid's Tale.
A midnight launch is more associated with titles like Harry Potter in which bad magic abounds, but Potter is a jolly kind of horror compared to Atwood's chilling story of a world where women are enslaved for breeding and denied personal rights, including bank accounts. A tale that exaggerates a familiar reality is more horrifying than one which creates an alternative fantasy world.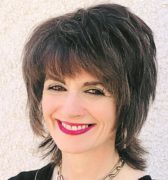 Every so often, I think I'd like a wee holiday from being a feminist. Learn to, you know, just smile and let it all go. Pointing out the power imbalance to the powerful (usually men) guarantees tortuous conversations that drop into an icy vortex of glacial eye contact and rigid smiles, and leave a bitter taste in the mouth, like you have been drinking malt vinegar. It's exhausting. But after reading that some attending the launch would be dressing up in cloaks and bonnets, like the handmaids in the powerful TV adaptation of Atwood's novel, I'll delay that vacation a little longer to point out just how apt the handmaid metaphor still is.
Handmaids are female servants, useful but subservient. The recent G7 illustrated one of our contemporary equivalents: the wives of presidents and prime ministers paraded to the world in a picture from which Angela Merkel's other half was noticeably absent. The women are there as the handmaids of the lords. Being a handmaid does not suit the male's temperament or ego. Or his diary.
The fact that the handmaids are a status symbol became evident in a spat between French President, Emmanuel Macron, and the Brazilian President, Jair Messias Bolsonarro, over the Amazon fires. A picture of Macron's wife Brigitte was posted on social media alongside Bolsonaro's much younger wife, Michelle, Little wonder, the comment said,  that Macron had it in for Bolsonaro. From a woman, the comment would have been filed under 'bitchy' but since it was a man, we have to read it as valid social comment.
Certainly, Bolsonaro thought so. With an illustration of the incisive brain that clearly got him elected, he posted, "Ha, ha, don't humiliate the guy." Cue song: don't you wish your handmaid was hot like mine?
Interesting that in the month "The Testaments" is published, so is "Equal" the account from the BBC's former China editor, Carrie Gracie, of her battle with the corporation over equal pay. It was a battle that left her exhausted and depressed. Originally, Gracie was reluctant to take the post. She had battled breast cancer, nursed a child through leukaemia, and didn't want the family disruption. But she was also a fluent Mandarin speaker. The BBC needed her.
She agreed as long as she was paid equally. Only when the BBC were forced to publish a list of those earning over 150, 000 did Gracie realise she had been shafted. She wasn't on it. But her male equivalent in America was. And her male equivalent in the Middle East. Her male equivalent everywhere else in the world, in fact. It wasn't that Gracie wasn't needed as much as they were. Nobody else could speak Mandarin.
Gracie's account is sad and salutary because she did what many women do: imagined a reciprocal sense of loyalty between her and her employer. Men, as a rule, are more savvy. They don't create false intimacy with employers, or suffer guilt pangs when they say "no". (Nor are they deemed "difficult" when they do). Gracie thought the BBC were "good" employers. She wanted to be a "good" employee back. In those circumstances, betrayal is more deeply personal – and humiliating. But to her credit, Gracie didn't relent. She wasn't willing to be a handmaid any more.
Money is a highly effective control. In "The Handmaid's Tale", women are cut off from banks and income sources.  I once interviewed Margaret Atwood and one of my favourite memories of our meeting was when she asked if I had a daughter. I did. Well, she had some advice for me. I should always ensure that my daughter had money in her shoe for an emergency taxi. Money is power: it turns a handmaid into the employer of a driver.
Atwood was formidable, shrewd, a tiny, fine-boned figure with a pale delicacy and a halo of wild grey curls. She didn't hate men, or court a feminist tag, but she wasn't frightened of it either. "Put it this way," she told me drily. "Some girls in my school wore fluffy pink angora sweaters. I wasn't one of them."
Creative people, she insisted, were the most entrepreneurial group of all. They didn't take a heap of steel and make it into a nail. They took nothing and made it into something. True – but Atwood's handmaids are based on a something that despite being exaggerated, had a recognisable kernel of truth. Sadly, over thirty years later, and almost fifty years after the passing of the 1970 equal pay act, they still do.
---
Catherine Deveney is an award-winning investigative journalist, novelist and television presenter