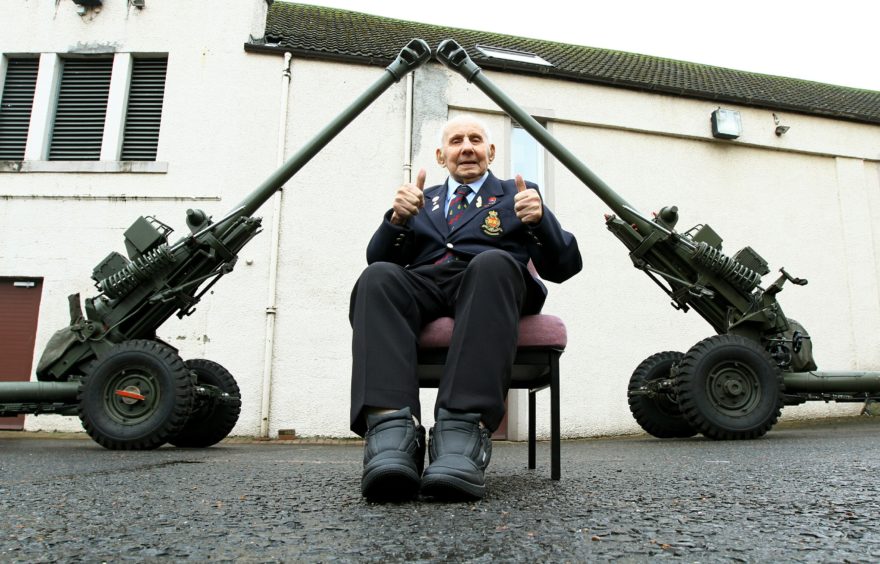 He was born in the same year that the Titanic embarked on its ill-fated maiden voyage and Herbert Asquith was in residence as Prime Minister at Downing Street.
And now, at the age of 107 – which makes him Scotland's oldest living man – Jimmy Sinclair, who fought with the Desert Rats during the Second World War, has been acclaimed as the sort of indefatigable individual whose example should inspire everybody to honour his name on the 75th anniversary of VE Day next month.
Still enjoys a dram at 107
The Fifer's CV testifies to the extent of his active service across the globe, but he has never lost his 'joie de vivre' or his determination to find the positives in any situation – and he still enjoys a dram of whisky and a bowl of porridge as much as when he was involved in some of the most pivotal exchanges of the conflict.
Mr Sinclair, who entered the world in 1912 and is a widowed father of two and grandfather of three, receives regular letters and photographs from Camilla, Duchess of Rothesay, whose father was a Desert Rat, and he has spoken vividly about the horror and sacrifice on both sides during the battle for Tobruk, which lasted for 241 days.
He said: "My mate from Falkland got killed. We were under fire from German 88s.
"We were firing 25 pounders – and it lasted a long time. We continually came under heavy fire from Stukas. They came over every day at dinner time, but they got shot down because they were that slow at taking off.
"It's a pity that it all happened. We didn't treat the Germans as enemies. They were combatants in battle and most of them didn't want to be there either."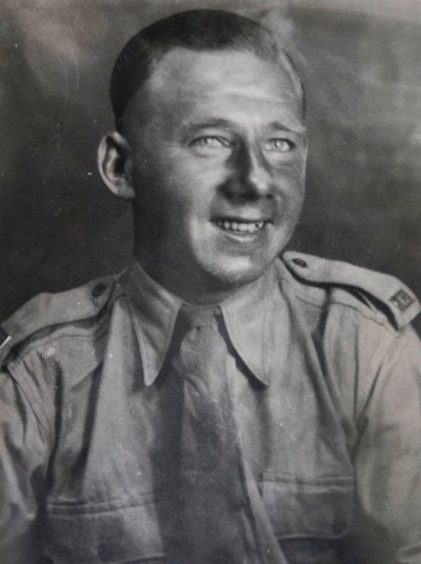 Dr Claire Armstrong, the chief executive of Legion Scotland, is among those who have been astonished by the centenarian's steely commitment to helping his country, but also his sense of forgiveness which led to him forming a close – and enduring – friendship with the family of the German general Erwin Rommel.
She said this week: "Jimmy Sinclair's contribution to the war effort is nothing short of remarkable. We know he is a modest man, but we cannot let a special occasion like VE Day pass without paying tribute to Jimmy and all of those that served alongside him.
"He is the last remaining Desert Rat – a special group whose efforts on the field of battle will be remembered for many, many years to come.
"We know that Jimmy enjoys a small tipple from time to time, so, as we approach the celebration of Victory in Europe, I would like to ask everyone to raise a glass to Jimmy and his comrades."
A teenage soldier
It has been an epic journey for the fellow who was brought up in Giffordown, near Ladybank, by his grandparents when his mother died just a month after giving birth.
Leaving school to become a slater, the teenager soon joined the Territorial Army and served with what was the Newburgh platoon of the Black Watch from 1931 to 1934.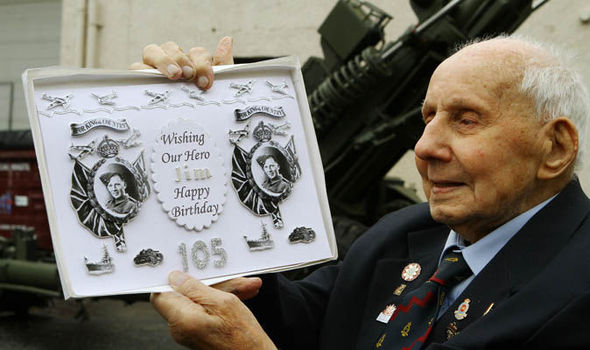 When the Second World War broke out, not long after he was married to his late wife Elizabeth, he joined up with the Royal Artillery in Perth and was sent to the south of England to train with the Royal Horse Artillery.
He was awarded medals for his role in the siege of Tobruk, the battle of El Alamein and taking part in assaults on the heavily-guarded and casualty-strewn Monte Cassino in Italy, but it's typical of his attitude to surviving the hostilities where so many others didn't that he has refused to make a song and dance about his accolades out of solidarity to the myriad "good mates" he lost.
Mr Sinclair's four years in the desert began when he was one of the 3,000 troops aboard the requisitioned ocean liner Britannic – which was the prelude to being involved in a gruelling six-week voyage from Liverpool to Cairo, via Sierra Leone and Cape Town.
He still laughs when he recalls how he and a friend went ashore in Cape Town for a couple of days and bumped into a man who, as it transpired, had worked with his grandfather at the Ladybank malt barns back home in Fife.
Yet there was little to smile about once he was in the thick of battle in North Africa and endured many privations, both from the enemy and the desert's natural inhabitants.
Mr Sinclair said: "One day, we were in the NAAFI and were living in a sandbank dug-out and I put a piece of chocolate in the palm of my hand and showed it to my mate.
"I said: 'Come and see this'. And then, a rat came out between the sand bags and took the chocolate and went back in. There was a real desert rat on the palm of my hand. Then, on another occasion, I woke up to find a rat chewing my ear!"
The Baring Bank connection
Two years later, after he had been re-deployed at Monte Cassino, he was badly burned and spent eight weeks in an Italian hospital, where he found himself becoming the driver for banking executive Hugo Baring of Baring Bank fame.
"He was a proper gentleman and one of the bravest boys that ever come," he says. "I kept in touch with him until he died."
After the war, Mr Sinclair, who played trombone in an acclaimed brass band in Fife, served for two years with the Control Commission in Berlin.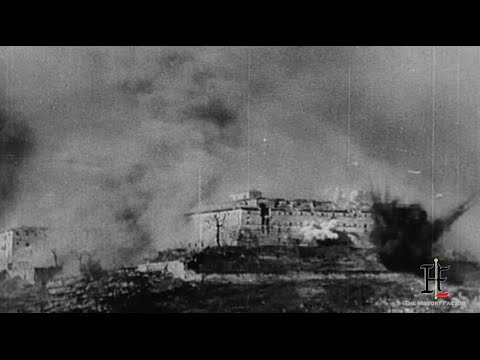 The former gunner still has a twinkle in his eye and a wealth of memories from so many different experiences, but he hasn't chosen to dwell permanently in the past and came out in support of Scottish independence before the referendum in 2014.
Even now, he still enjoys a dram of whisky a day and when he was recently asked the secret to his long life, he responded: "Johnnie Walker".
He added: "You need to have a sense of humour and I like to keep upbeat."
---
Jimmy Sinclair's Royal connections
It isn't often that members of the Royal Horse Artillery find themselves outflanked, but that is exactly what happened to Jimmy Sinclair in the run-up to his 100th birthday.
Unbeknown to him, his granddaughter had arranged a special early birthday surprise for him: a family outing to Holyrood Palace.
Then, on his arrival in August 2012, the old campaigner discovered that he was having afternoon tea for the big occasion with Camilla, The Duchess of Cornwall.
He was accompanied by his daughter Olive, son-in-law Robert and grand-daughter Susan, who had joined forces to organise the visit.
Whisky treat at the palace
The Duchess said she was delighted to invite Mr Sinclair and his family to tea and gave him an early birthday present of whisky tumblers and a bottle of Highgrove whisky.
Halfway through the meeting, the Duchess brought Prince Charles in to meet her guests and the prince and the gunner spent some time looking at medals and old photographs.
Mr Sinclair said: "It was an opportunity of a lifetime, as I had never expected to meet their Royal Highnesses at the Palace. It was a wonderful surprise.
"The Duchess and my family had arranged the whole thing. I knew nothing about it until we had driven into Holyrood Palace grounds. But it was a lovely afternoon."
---
When Jimmy told his story to an American war historian
Mr Sinclair was interviewed in 2018 by an American historian who is documenting the stories of as many veterans as he can.
The oldest surviving Desert Rat was visited by Rishi Sharma, who was travelling throughout the UK, chronicling the experiences of old soldiers.
Mr Sharma has pledged to continue interviewing Second World War veterans, whom he describes as real-life superheroes, until the last one passes away.
He has already captured on film the accounts of more than 900 veterans across the United States and Canada and has travelled from California to meet several Scots who fought for their country.
Biggest heroes and kindred spirits
His ongoing project, Heroes of the Second World War, has been established to preserve oral histories for future generations.
Mr Sharma said: "These men are my biggest heroes and my kindred spirits, as they are the only people whom I truly enjoy talking to and learning from for hours on end.
"I want them to know just how grateful I am for the many, many sacrifices which they have made in the theatre of war.
"That is why I have decided to dedicate my life to interviewing these veterans and doing my best to bring awareness of their sacrifices to the wider public."