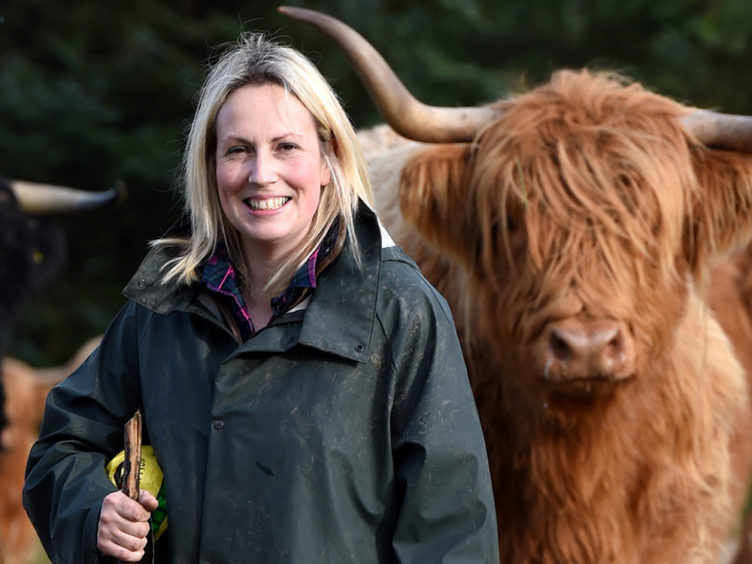 How adventurous are you when it comes to eating and preparing meat? Are you supporting your local farm shop? That's what Ladies in Beef, the organisers of Great British Beef Week (April 23-30), are asking as they encourage consumers to experiment in the kitchen.
The women-only group hopes to encourage Scots to try different cuts of beef and experiment with new recipes, as well as purchase good-quality meat from stores, local farm shops or online.
Ladies in Beef, which is behind the 10th Great British Beef Week (GBBW), was co-founded by NFU President Minette Batters in a bid to publicise positive messages about British beef.
Today, around 150 like-minded female farmers – from Campeltown to Cornwall – are members of the group. Together they champion Red Tractor Assured British Beef to consumers by promoting its versatility, nutritional values and environmental benefits.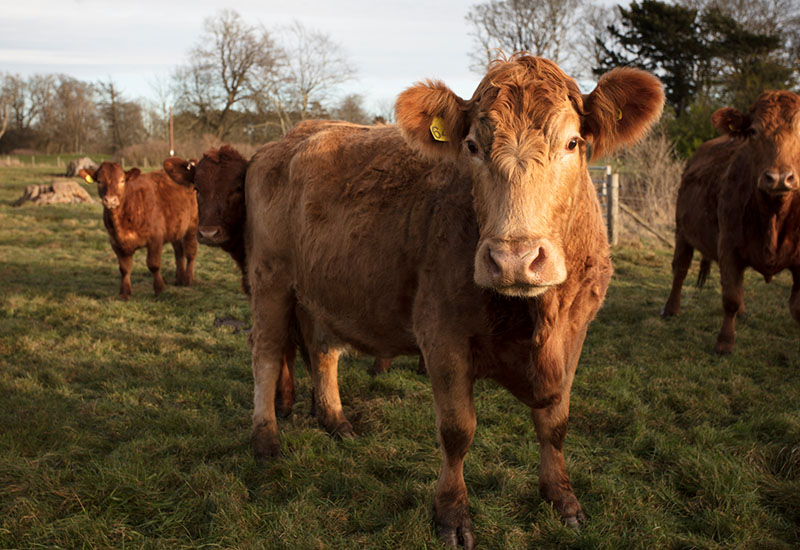 Today in Scotland, more than a third (38%) of farms are run by women.
So, as GBBW kicks off, we speak to two of them: beef farmers, and Ladies in Beef members, Grace Noble of Aberdeenshire Highland Beef in Banchory and Claire Pollock of Ardross Farm in Fife, about their role and passion for the industry.
Case study: Grace Noble, Aberdeenshire Highland Beef, Banchory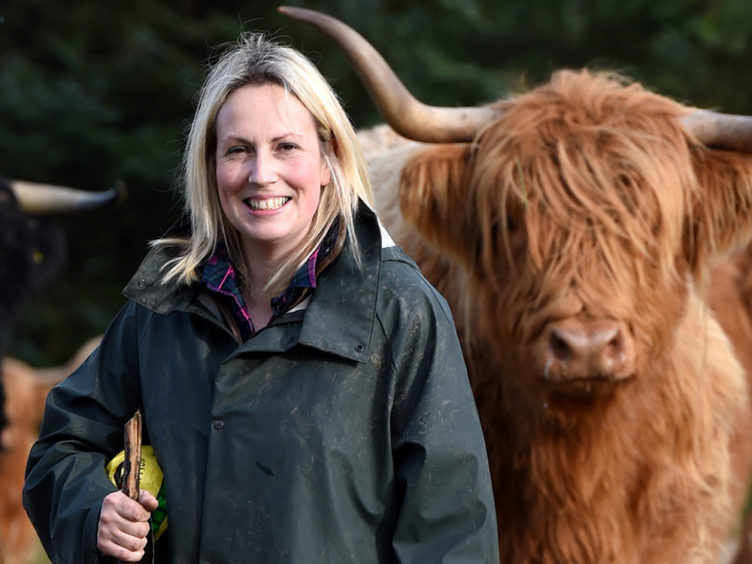 As a youngster growing up in the Scottish countryside, Grace Noble was fascinated by Highland Cattle, and now she is breeding the native beasts at her farm in Banchory.
Although it was her "dream job", going into the farm industry wasn't on the cards for the 43-year-old when she was at school and she, like many of her peers, went on to university. After graduating, Grace became an environmental health officer for Aberdeen City Council.
She explained: "I loved the outdoors, animals and livestock but when I was young, you weren't encouraged to go into that industry [farming].
"I was working in Aberdeenshire when an opportunity came along to take on tenancies and rent a farm off two estates. Fortunately the lairds were happy for me to become one of their tenants when I talked about the business that I wanted to do, and I was able to live the dream. It was a complete career change and a leap of faith."
In the eight years since she took over the farm, Grace has built up a herd of 130 Highland Cattle, launched Aberdeenshire Highland Beef (which is QMS quality assured), and opened a farm shop and a butchery on site, as well as running weekly tours in a bid to educate the public and tourists about how Scotch Beef is produced.
Today, she supplies prime beef cuts to some of Scotland's top restaurants and hotels and interestingly, there are not one, but two, Royal connections to the farm – not only is Grace supplying honey from Prince Charles' residence of Birkhall at the farm shop, the farm itself rears calves from the Queen's own fold of Highland Cattle at Balmoral.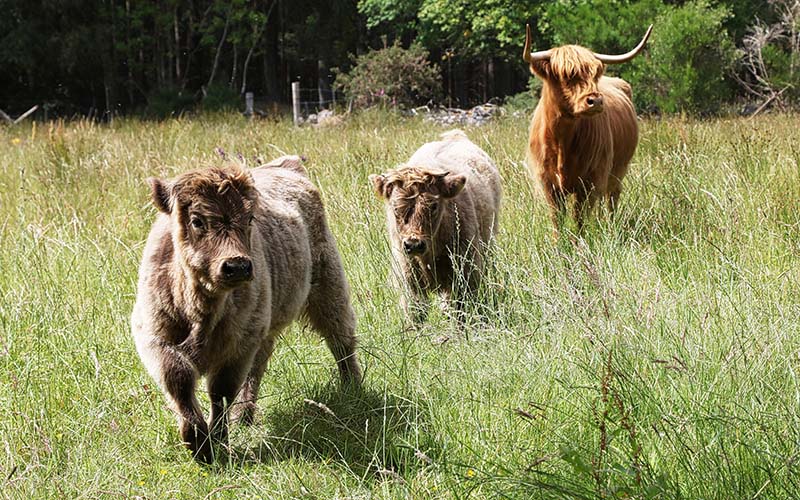 As she speaks, Grace's passion for what she does – and what she is producing – shines through.
The mother-of-two, who has a teenage son and daughter, added: "I am really proud of what we do here. All the Highland Cattle are born, bred and reared here in Banchory, as well as butchered.
"It's championing the beef and the breed – everybody knows what a Highland cow looks like, but what makes their beef special is that they are grass-fed and reared outdoors from birth to maturity which maintains the good health and welfare of the cattle and gives the beef a great flavour. Highland Cattle beef is richer in iron than any other red meat."
The coronavirus pandemic could have had a massive impact on the business, but in fact, Grace is busier than ever. While she may not be supplying her usual high-end clients, the number of domestic orders has rocketed.
Grace explained: "It's been more important than ever that people are realising when meat is sold out on the local supermarkets, where do you turn? Your local farm shop.
"It was a scary time when everything started closing but our domestic customers have kept us busy and I hope the customers will continue to buy quality beef from local producers.
"A quality product is more expensive, but what I say to people is 'buy better quality but eat less of it' and bulk up meals by adding more vegetables to make it go further."
*For one of Grace's favourite beef recipes, click here.
Case study: Claire Pollock, Ardross Farm, East Neuk, Fife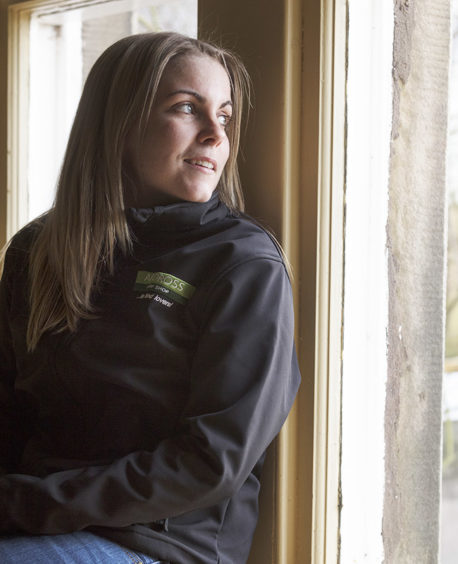 It was always her father's dream that the family farm would continue to succeed after his passing, so daughter Claire Pollock is making sure this happens by running the Fife farm herself.
It's just over six months since Claire's farmer father Rob died, so she may be new to tenancies and contract farming operations, but farming has always been her calling.
It was while studying accountancy at Aberdeen University that Claire realised her true passion was farming, so after graduating and working in an accountants office for a year, she arrived back home at the family's Ardross Farm in East Neuk.
Claire explained: "My Mum and Dad encouraged me that I could make more money doing something else so I studied accountancy and finance and within a year of working in an accountants, realised all I wanted to do was farm. So I went home and I have been working there ever since.
"My Dad always used to say, 'You have to enjoy whatever you do because you do it for the majority of your life'. In my old job, I was noticing that I was really excited about the weekends, as I would have two days off, but it is not supposed to be like that.
"I don't feel like that anymore – I love what I do."
Since then the 1,300-acre farm has evolved, launching its own farm shop – which is run by Claire's sister Nikki Storrar – to supply grass-fed beef direct to the public.
Today on the farm there are 100 breeding cows, 120 breeding sheep and a mix of arable crops, with plans to increase cattle and sheep numbers.
Since dad Rob passed away in October last year, it has been a tough few months for Claire and Nikki, but with help from Mum Fiona, they are continuing to run Ardross Farm in their father's memory and have recently achieved the accolade of becoming Pasture for Life certified for both cattle and sheep.
Claire is hugely proud of the contribution she, and Ardross Farm, is making in the production of quality British beef, something she is just as passionate about as her dad was.
She added: "Our cattle and sheep are all grass-fed. They are outside grazing in the summer and in the winter when we feed them silage which has a huge benefit to our customers at the farm shop. Beef is much healthier to eat and the animals are happier."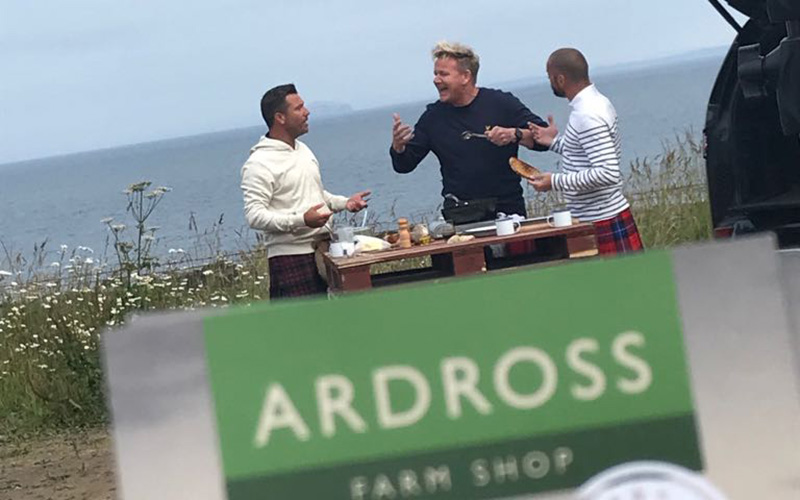 In fact, Ardross Farm Shop had three VIP visitors in October 2018 when Gordon Ramsay, Gino DiCampo and Fred Sirieix visited to film Gordon, Gino and Fred's Road Trip. The Pollocks were delighted to be chosen to feature in the ITV show, and have benefited from the television exposure since.
She added: "We took them out to the cattle and Gordon cooked a fillet of beef for us, Fred served us, and we ate it with them at Brechin Castle. It was absolutely phenomenal, then we had a ceilidh afterwards!
"Gordon said it was the best fillet of beef he'd ever tasted, which was quite an accolade.
"Lots of people talked about the show afterwards and we had courier deliveries going UK-wide. It has a really positive impact."
*For one of Claire's favourite beef recipes, click here.