From fighting in the Egyptian desert and fleeing through the jungles of Burma, to vigils of honour and eyewitness accounts of warfare, explore The Press and Journal's coverage of conflict and remembrance down the centuries.
1882: Anglo-Egyptian War
In September of 1882 the Anglo-Egyptian war was nearing its conclusion.
Scottish regiments including the Cameron Highlanders, The Black Watch and Seaforth Highlanders had been present throughout the conflict.
With telephone use in its infancy, battles were reported back to the mainland through telegrams which would then be transcribed by newspapers and communicated to readers.
Families across the north and north-east relied on The P&J's transcripts of British Army reports for updates on their relatives involved in conflicts abroad, from news of battalions' triumphs and movements to injuries and the missing or dead.
One of the pivotal battles took place at Tel-El-Kabir, roughly 110 miles north-east of Cairo, when the British Army engaged Egyptian forces.
From September 15 to September 19, The P&J published British Army communications detailing the key moments of the battle as well as medical reports describing the nature of injuries suffered by soldiers.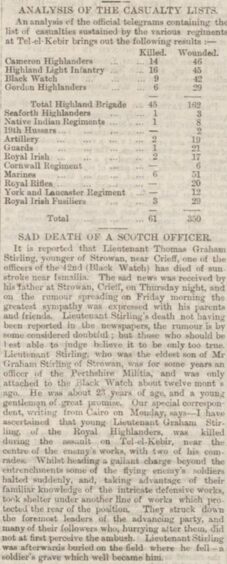 ---
1943: Fleeing Mandalay during the Second World War
The stories of our local communities have been at the heart of the P&J's reporting since its inception.
However, few tales would be as blockbuster-worthy as that of Merchant Navy captain AN Stewart.
Speaking to a P&J reporter after his return from Asia, Stewart detailed his 450-mile trek from Myanmar to India  during the Second World War.
Fleeing the Japanese invasion of Myanmar (formerly known as Burma), Stewart assisted with the evacuation of more than 1,500 people out of Mandalay, the country's second-largest city, in anticipation of a bombing raid.
In a race against time, Stewart returned to Mandalay. Rescuing his family, he ensured safe travel for them on a boat to Kolkata – referred to as Calcutta throughout the articles – with other Merchant Navy families.
With his evacuation duties taken care of, Stewart's bid to reach safety in Kolkata, alongside a group of fellow Scots, saw him traverse the Burmese jungle.
Fearing capture by enemy forces and possible encounters with less-than-friendly wildlife, the group pushed on. During their journey they endured harsh weather, had to hack through dense undergrowth and faced a standoff with a particularly skittish tiger.
Stewart remarked: "It was cut, cut, cut. I know of no more heart-breaking or tiring job than cutting your way through a jungle".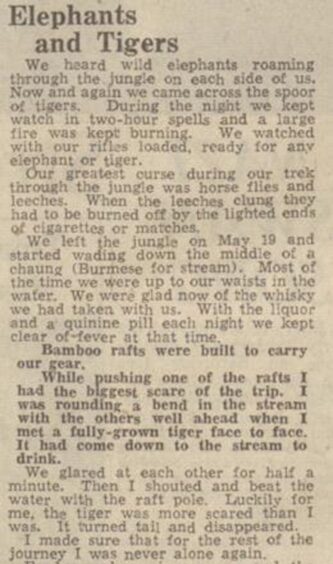 Eventually, Stewart and his group arrived safely in Kolkata and were reunited with their families.
For the journeys that still lay ahead of them, they received support from the Indian government.
---
1944: The Land Army girls
As part of the war effort, women across Scotland and the UK enrolled in schools to be trained in agriculture and manufacturing to lessen the strain on the economy and industrial sectors that lost waves of male workers at the start of the conflict.
P&J reporter Patricia Donald visited one of these institutions, the Land Army Training School at Craibstone Joint Farm.
Reporting on the intensive month-long training, Donald remarked: "The month's course consists of a general training in farming… Most of the girls come from town jobs, and a foretaste of the kind of life they must expect prevents much disappointment later when they are actually placed on farms."
On finishing their training, the school's graduates were sent across Britain to support farmers as many of their younger male workers had enlisted to fight.
The schools were such a success that many women went on to pursue careers in farming after the war had ended.
---
1945/87: The "Burma Duck"
An unlikely story of survival, companionship, and a duck.
While browsing through P&J archives, a glass plate negative simply titled "Soldier with Burma Duck" piqued the curiosity of journalist Paul Harris.
After further research, Harris discovered the man in the picture was Corporal William Gray of the 2nd Battalion Gordon Highlanders, living in Forgue, Aberdeenshire, and he set out to unravel the rest of the story.
Cpl Gray had been a prisoner of war in an internment camp after Singapore surrendered to the Japanese in February 1942, during which time he and the other prisoners adopted a female duck they named Donald.
Despite the camp's restriction on pets, the soldiers managed to convince their captors that the duck was sacred – even furthering the charade by getting down on their knees to pray to her each day.
During Donald and Cpl Gray's internment, Donald produced more than 200 eggs and was endeared by British soldiers and their Japanese captors alike.
After being released from the camp at the end of the war, Donald and Gray were reunited in Forgue where Donald went on to mother a number of ducklings who dispersed across the Aberdeenshire area.
---
1987: Readers' Wartime Letters
One of the cornerstones of The P&J's history has been giving a voice to its readers.
In September 1987, in anticipation of a new editorial series 'The Way We Were', The P&J asked its readers to share their wartime stories.
Connecting the stories of the community with the work carried out by P&J staff during the war, the paper's archivists got to work sifting through imagery and footage relating to the stories they received.
Through the stories that were published, insight was gained into the uncertainty and fear that many families in the north and north-east faced during wartime.
Through John Scott of Inverurie, who was stationed at HMS Condor by Arbroath, we learn how an incident with a ladder – a blessing in disguise – at the Royal Naval Air Station (now RM Condor) resulted in him being sent home on medical leave and prevented his voyage on a vessel that never returned.
Through Violet Garrick, who was based at Balmedie, we hear a story of enemy attacks on the British mainland when German planes approached Aberdeen and opened fire on the city: "We flattened ourselves, face down, at the edge of the tree-lined drive. After what felt like an eternity, we decided it was safe to move on… When we did get up, our feet hardly touched the ground as we ran for safety."
The images captured by P&J photographers have ensured a lasting legacy of how the war affected the north and north-east, from pictures showing friends enlisting together and the aftermath of air raids to Aberdonian children being evacuated to the countryside for safety.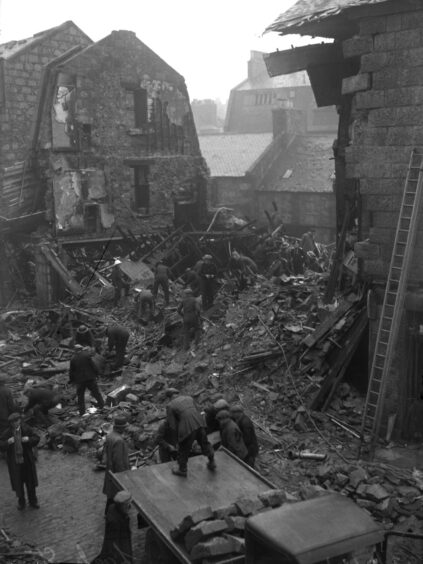 ---
2012: Afghanistan War
In November 2012, P&J reporter Kay Nicolson covered the return of servicemen and women to RAF Lossiemouth after a six-month tour of Afghanistan.
Families and friends were there to welcome them home with open arms after their flight touched down well after midnight.
In what was already an emotional affair, the moment was even more poignant for Senior Aircraftman Adam Burrows who met his two-week-old son for the first time.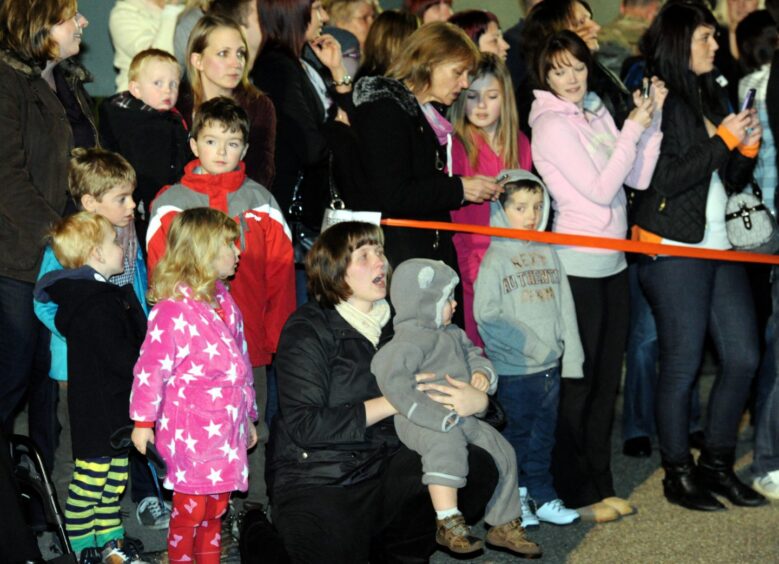 ---
2020: VE Day Remembrance
May 8 2020 marked 75 years since VE Day.
The stories of P&J readers featured in our special supplement marking the occasion.
Some stories focused on the "high emotion" experienced by readers on the day.
Isobel Fettes recalled parading up and down Union Street in celebration.
She also spoke of the anguish at losing a gold watch given to her in 1941 by her late mother.
Fortunately, she found it just as a "soldier was about to put his heavy boot on it – I gave him quite a shock when I pushed him away".
Other stories highlighted the harrowing impacts of war.
Margaret Anderson of Fort William was only eight at the time but remembers her mother's sadness after learning of her father's death, only for the announcement of armistice to arrive two weeks later.
But another letter that arrived on the same day was heart-breaking and poignant.
Margaret recalled: "The worst thing was that the letter arrived on the same day as one from him which told us how thrilled he was at the thought of seeing us again soon."
Other people used the day to remember their families' stories of the past and bittersweet reunions.
Ann Sutherland of Caithness recalled her mother, Jessie Mackay's, stories about VE day.
She was a member of the Auxiliary Territorial Services based in Golders Green, London.
On VE day, she and her colleagues headed to Trafalgar Square.
In the crowd, she was amazed to meet her cousin William Swanson, from Thurso, whom she had not seen for a number of years.
However, as they celebrated, her brother James Douglas, a Seaforth Highlander, was still a prisoner of war, having been captured at St Valery, France.
---
2022: Remembrance Day Gallery
Each year, P&J reporters and photographers attend remembrance events across the north and north-east, from mass gatherings at the Aberdeen city war memorial to smaller vigils in Turriff and Trinity Cemetery.
Through the years, they have captured these poignant moments and immortalised the memories of those in attendance.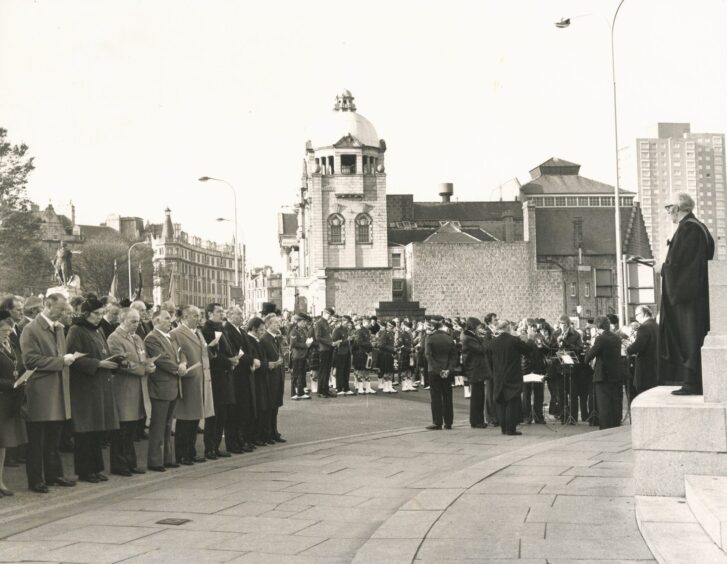 ---
2022: Ukraine War
In February last year, after months of unease along the Ukraine-Russia border, the Russian land invasion of Ukraine formally began.
The P&J's coverage of the conflict has spanned a number of topics including the stories of local people who have been affected by it.
One such example comes from reporter Ben Hendry who told the story of Mark Allan, a Huntly retained firefighter, who assisted with the delivery of emergency vehicles to Ukraine a number of months prior to Putin's invasion.
'I don't think twice': Brave Huntly firefighter to drive much-needed emergency vehicles to Ukraine
After news of the invasion reached him, Allan felt compelled to assist in any way he could.
Working with the Scottish Emergency Rescue Association – a humanitarian charity focusing on delivering emergency vehicles to countries such as Moldova, Ukraine and Romania – Allan assisted with the delivery of three vehicles to the Poland-Ukraine border.
---