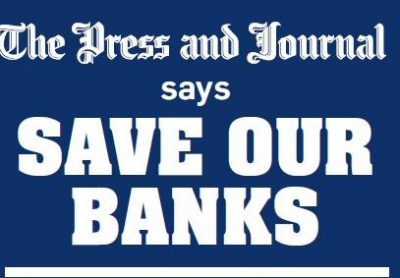 Nicola Sturgeon has urged RBS to "listen to the voice of the public" and end the uncertainty hanging over the remaining under-threat branches.
The SNP leader spoke out at first minister's questions after the issue was raised by north MSP Gail Ross.
RBS announced this week that it had U-turned on 10 of 62 planned bank closures in Scotland, including four in the Highlands and islands.
Mrs Ross said: "I am pleased that the Tongue branch in my constituency has had a reprieve until the end of the year, thanks to a sustained campaign by the community and the Scottish National Party.
"However, Wick and Tain branches continue to face closure, as do a further 50 branches throughout Scotland.
"Will the first minister join me in calling for RBS to listen to its biggest shareholder—the taxpayer—to stop the decimation of high-street banking across Scotland?"
Responding, Ms Sturgeon said: "Yes, RBS should listen to the voice of the public on the issue.
"That said, I welcome RBS's announcement on the reprieve given to 10 branches. That is welcome, although it leaves many other communities facing continued uncertainty."