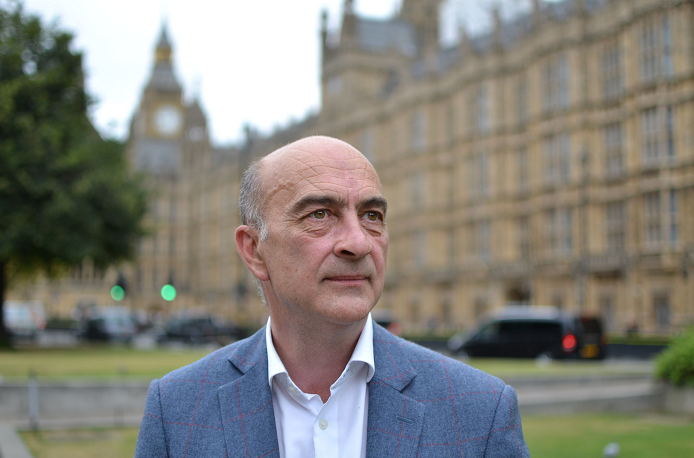 I've never watched Love Island. Sorry. But there you are. It doesn't make me a bad person.
The programme is so-called reality TV. A group of 20-somethings live on an idyllic island.
And it has something to do with love, apparently. A dating and mating game.
A mash up of Take Me Out meets Big Brother. Not so much Blind Date. More like bland date. Or so I'm told.
Now this may sound harsh. After all, millions in the UK watch it.
Indeed, if his Twitter posts are to be believed, the former chancellor George Osborne is a viewer.
And I am not immune to watching a group of people spouting nonsense in a futile bid to become famous. I've sat through far too many prime and first minister's questions to make that claim.
But a particular exchange from the show caught my attention when it hit my social media feed on Saturday.
A selection of the contestants were sitting chatting. One asked what the others thought about Brexit.
"What's Brexit?" asked her pal. Others thought we were leaving Europe, the continent. And a third worried we wouldn't have any trees any more. I think because someone else said we would have to cut down on certain things…
But the biggest concern was that going on holiday to places like Spain would be harder. "I like holidays," was the plaintive cry.
It was cringe-worthy. It was embarrassing to watch. It was painful to hear. Funny, but painful.
But it was a salutary lesson that most of you reading these words in this newspaper are not typical of the wider population. The very fact that you are still reading puts you in a minority.
You are amongst the best informed. You have a grasp of some basic facts.
You probably know why you voted which ever way you did. Leave or Remain, you had an inkling of why you put your "x" in the box you did.
But we are the minority, you and me. Most people do not read newspapers.
They do not watch or listen to current affairs. Their world views are narrow.
Their opinions simple, and often, we might argue, ill-informed. But they deserve their say and they deserve to have their views – ignorant or otherwise. Because that's democracy.
And whilst they may be blissfully unaware of the nuances of the debate, and they may not consume mainstream media, they are not immune from influence. They live a social media life.
There is no test of intelligence or savvy or common sense which determines who gets the vote. There is no need to show that any voter has even the most basic of understanding about the issues which we ask them to decide. Nor should there be.
All we require is a minimum age, them not being certified insane or behind bars, and they can wield the pencil. And that's how it should be.
Many will think it painful to see our futures decided by those more concerned about sun, sand and sex, rather than sovereignty, sterlingisation and social security.
But who are we to say that they are wrong? Because maybe, just maybe, their gut feelings and narrow focus are just as valid as a more nuanced and wider world view? And maybe, who knows, Brexit might mean we have to cut down all our trees. (OK, that was a joke. I think.)
Some have suggested that compulsory voting would sort this out. Make people vote, they argue, and you force them to get better informed.
No. Wouldn't happen. Not in a million years. Those who can't be bothered to vote are hardly going to start watching Question Time every week. Heck, I've even given up on that.
Forcing all and sundry to the polls isn't going to create millions more tuning into Good Morning Scotland or Today. Or buying a newspaper and assiduously reading counter-balanced views.
I doubt that Australians are any better informed than us. That have to vote. But they are perfectly free to vote in ignorance if they choose.
Perhaps the only argument in favour of compulsory voting is that it would force politicians to address the concerns of the whole population. One of the lessons of Brexit and Trump's victory is that many who had previously disenfranchised themselves, turned out. And, in turn, swung the result.
But even this doesn't sway me. The right to vote is the right not to vote. The arguments put should be the right ones for the country. Including for those who don't turn out on polling day.
I am writing this column as I sit watching Scotland take on England in a one day cricket international in Edinburgh. The oldest sporting rivalry in the world. Over my shoulder is Raeburn Place, the venue of the original rugby international between the Auld Enemy.
The sun is trying to peep through the clouds, and showers are forecast for later. But it is a sell out. Every seat taken. The tartan army versus the barmy army. Cheers, beers. And no doubt a few sporting tears ahead…
But the public interest in this game shows that Scottish sport is in fine fettle. That there is more to supporting Scotland than just football. A lot more. And that our other national sides are flying the saltire higher and prouder than our footballers.
At rugby, we look forward to the World Cup with a genuine chance of a top four finish. The cricket boys are ranked 13th in the world. In cycling, and swimming and in track and field we are punching way above our weight.
And tennis. We are not too shabby at that.
So we are not Russia bound. The football World Cup will have to cope without us. Again.
So from my seat on the extra cover boundary, cheers. Here's to Scottish sport. In all its varied glory.