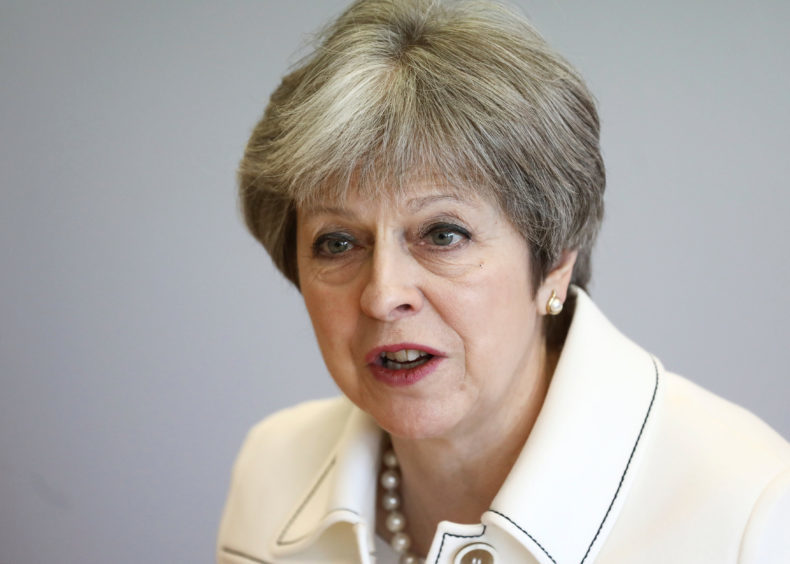 Theresa May last night accused Labour of frustrating Brexit after Shadow Chancellor John McDonnell suggested that a second referendum on EU withdrawal is "inevitable".
On a flying visit to Scotland, the Prime Minister claimed Labour wanted  to overturn the will of the British people.
She reacted to Mr McDonnell's remarks when she flew to Bridge of Weir, Renfrewshire, to visit the Scottish Leather Group as part of her UK tour to sell her Brexit deal.
Mrs May said: "His comments about the second referendum today show that what the Labour party want to do is frustrate Brexit and want to overturn the will of the British people.
"Parliament overwhelmingly gave the British people the vote. They voted to Leave. I think it's a matter of trusting politicians that we actually deliver on Brexit."
Earlier, the Shadow Chancellor told the BBC that if a deal that protects jobs could not be achieved, Labour wanted a General Election.
But he admitted that would be difficult given Westminster's fixed parliament laws.
He said: "If that's not possible (an election), we'll be calling upon the Government to join us in a public vote. It's difficult to judge each stage, but that's the sequence that we'll inevitably go through over this period."
When asked about his use of the word "inevitable", Mr McDonnell replied: "That's right. Our policy is if we can't get a general election, then the other option which we've kept on the table is a people's vote."
On her Scottish visit, Mrs May indicated she would hold firm against any demands from Nicola Sturgeon for a second Scottish independence referendum.
The Prime Minister was asked if she will consider any request from the First Minister for a section 30 order, which would give Holyrood the power to hold a vote next year.
She replied: "Now is not the time to be thinking about this.
"The United Kingdom faces a very important decision, it's an historic moment for the UK, we entered the EEC as it was as the whole UK, we are leaving the EU as a whole United Kingdom.
"What we've negotiated is a Brexit deal that is good for the UK as a whole, it is good for Scotland, it's good for employers like Bridge of Weir here.
"It's good for Scottish fishermen, and support for the deal has been encouraged by employers like Diageo, and by organisations like the Scotch Whisky Association and the National Farmers Union."
She added: "What we do know is that what would be bad for the Scottish economy would be taking Scotland out of the United Kingdom."
Mrs May denied Nicola Sturgeon's claims that she was too "feart" to take on the First Minister in a TV debate on Brexit.
Explaining her position that Ms Sturgeon should not be included, Mrs May argued that the First Minister would not have a vote in the House of Commons debate on the Brexit deal.