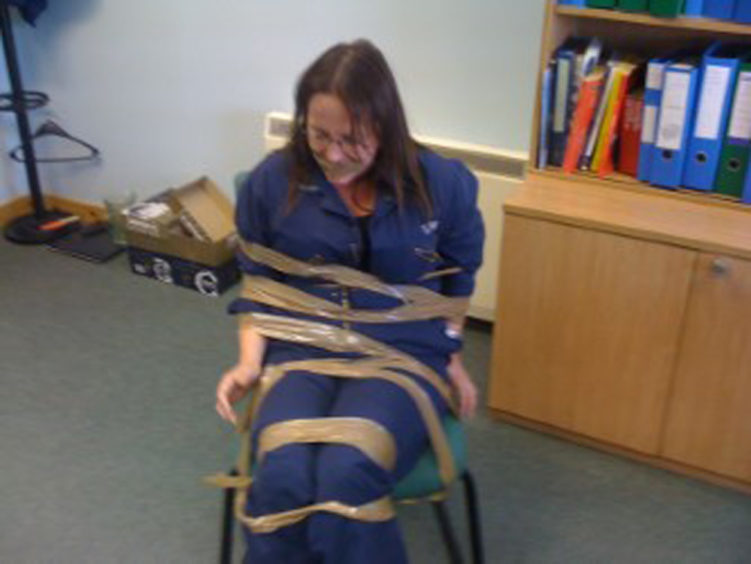 An MSP has claimed the abuse suffered by a Marine Scotland fisheries officer, who was taped to a chair, should be investigated by an independent inquiry.
Highlands and Islands MSP Rhoda Grant made the call in a powerful Holyrood speech which included fresh claims about DeeAnn Fitzpatrick's ordeal in the Scrabster office of the Scottish Government agency.
Ms Grant said the fisheries officer had been "subject to institutional racism, harassment and abuse at the hands of Marine Scotland, a Scottish Government directorate".
Ms Fitzpatrick's case came to prominence when a photograph of her taped to a chair and gagged while at work emerged last year.
Leading a member's debate condemning misogyny, racism, harassment and sexism, Ms Grant said: "We now need a truly independent inquiry into DeeAnn's treatment at the hands of this government and Marine Scotland."
Ms Grant said racist and sexist remarks were commonplace in the office and claimed another female colleague was a victim of bullying.
The Labour MSP described her constituent as a "brave, courageous woman" and said she had endured oppressive behaviour over years.
According to Ms Grant, women were referred to in "extremely derogatory terms" in the Marine Scotland office.
And she asserted the fisheries officer was "constantly being held to a different standard than others.
"I'm told by a colleague that this was deliberate and systematic conduct by others in the office and in the line of command in Marine Scotland, designed to wear her down and force her out."
SNP MSP Rona Mackay described the case as "extremely shocking", while Green co-convener Patrick Harvie said it was an "experience which I hope all of us across the chamber would find utterly intolerable".
Conservative MSP Annie Wells said: "I hope this goes some way to ensuring that DeeAnn gets the independent inquiry she absolutely, desperately deserves."
Nicola Sturgeon ordered a review into the case when it was brought to her attention in May last year. Shortly afterwards, Ms Fitzpatrick failed to get damages when she took Marine Scotland to a tribunal.
At Holyrood, Equalities Minister Christina McKelvie was asked if she would speak to colleagues about putting in place an independent inquiry.
Ms McKelvie replied that Ms Fitzpatrick's treatment was still subject to an "internal process" and it would be "completely inappropriate" for her to comment on it at this time.
The minister added that "misogyny, racism, harassment and sexism have no place in today's society or working environment".