Andy Murray's last minute backing for the Yes campaign handed Alex Salmond a surprise boost as the polls opened – it may also have come as a surprise to one of his main sponsors.
Standard Life has been one of the most outspoken critics of independence and is threatening to leave Scotland should the people vote Yes.
However, the ink is barely dry on the firm's new £4.5million deal with the former Wimbledon champion, who broke his silence on the referendum at the 11th hour.
He tweeted: "Huge day for Scotland today! no campaign negativity last few days totally swayed my view on it. excited to see the outcome. lets do this!"
Twitter users were quick to point out last night that Standard Life's new social media campaign – #withAndy – now appears somewhat ironic.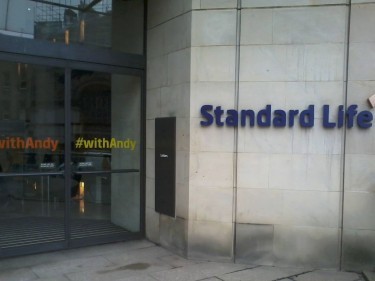 In June, when he signed the deal, Murray said: "It was important to me to find a company that shares the same values, and also understand the demands of my sport.
"Standard Life started in Scotland, and are now operating successfully around the globe. I'm looking forward to the next three years, and hopefully beyond."