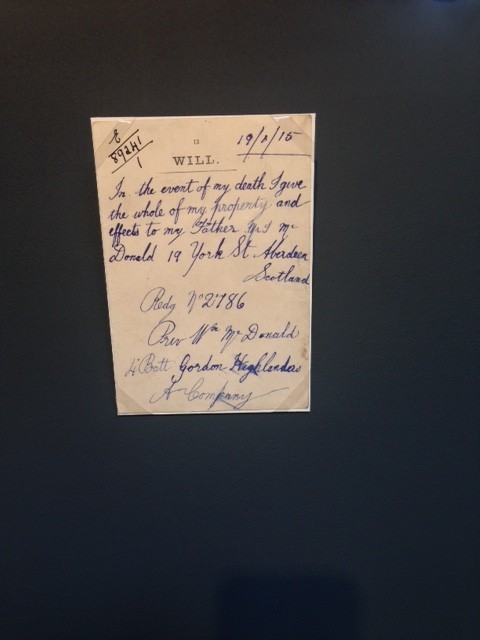 The will of a north-east soldier killed a century ago during World War I has been put on display at the Scottish Parliament.
The document prepared by Private William McDonald of the 1/4th Gordon Highlanders stated that in the event of his death his property and effects were to be left to his father John, a craneman, of 19 York Street, Aberdeen.
The soldier was killed on March 24, 1915 in the trenches near Vierstraat close to Ypres in Belgium.
Mr McDonald, who made his will on January 19, 1915, did not die during a major battle on the Western Front but was the victim of shellfire or sniping.
The document is part of an exhibition to promote the work of the Scottish Council on Archives which is responsible for preserving the country's heritage for future generations.
Dr Irene O'Brien, the organisation's chairwoman, said: "All the soldiers had on their person a will in case they died and this was one that was returned.
"They are held in the National Records of Scotland and there are 35,000 of them.
"They are in the own words of the soldiers and it is very emotional to hear that story.
"This is this soldier's last words for members of his family – he is talking from beyond the grave I would say so it is a really important document."