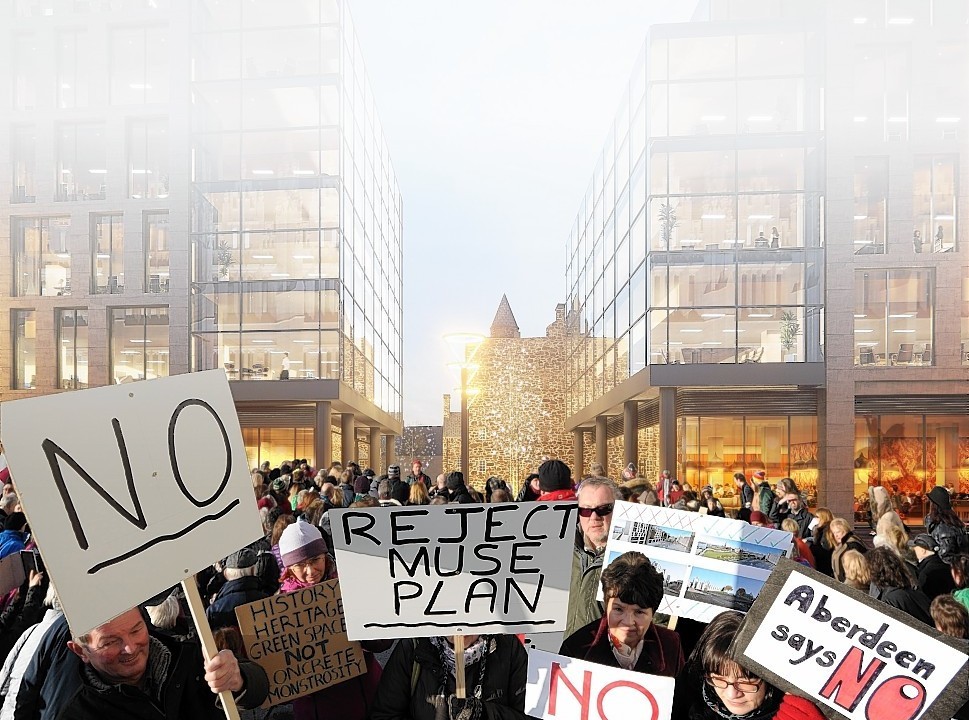 The controversial Marischal Square development has been branded "about as popular as a visit by King Herod to the Bethlehem nursery".
In a heated late night debate, MSPs from a number of parties agreed it was "regrettable" Aberdonians "feel that their voices have been ignored" over the £107million development in the city centre.
Aberdeen Central member Kevin Stewart called the Holyrood debate amid fears the project would saddle taxpayers with debt and not be viable.
Both the local authority and developer Muse last night insisted it would be a success.
Mr Stewart accused the council of ignoring the views of local residents, quoting supporters of the Reject Marischal Square Development campaign during his speech.
He said: "The Labour-led council has pushed on with this scheme that is about as popular as a visit by King Herod to the Bethlehem nursery.
"A contributor to the Reject Marischal Square Development campaign talks for many when he says that when the old St Nicholas House was demolished, we could finally see Provost Skene's House and Marischal College in all their glory.
"The people of Aberdeen are crying out for this to be an open space, a civic square, but those who are meant to represent them are not listening."
Mr Stewart also pointed to claims that Aberdeen City Council did not have a business plan in place for the development.
He said: "There is no business plan at this time.
"And yet, according to the campaigners, Aberdeen taxpayers will be underwriting the risk of under-occupancy of the development by guaranteeing £175million to Aviva shareholders over 35 years.
"It has been said by a great number of folk that Aberdeen City Council are willing to take on a risk that a multinational insurance company is not prepared to underwrite."
However, he failed to receive the support of his own minister, Marco Biagi, who said the Scottish Government was right not to call-in the Marischal Square development because the SNP "believe in local decision-making".
Labour MSP Lewis Macdonald accused Mr Stewart of hypocrisy, claiming that Aberdeen City Council was only following advice he had issued.
Mr Macdonald said: "It is worth noting the report last week of this parliament's local government and regeneration committee – chaired by Kevin Stewart – which said local councils should work with pension funds to invest in infrastructure.
"Mr Stewart and his colleagues urged councils to take a less cautious approach – they said that 'without some degree of risk-taking, innovation will not happen'.
"Audit Scotland has looked at the innovative financing of Marischal Square.
"They conclude that the risks have been well understood and managed, and advise the council to 'continue to manage its financial exposure to mitigate these risks accordingly'.
"I hope the council will do so, but also heed the advice of Mr Stewart's committee not to be risk-averse."
City council finance convener Willie Young, said the "additional income" from the development "could help protect frontline services for years to come".
He added: "When you put that in the context of what is widely expected to be a reduced funding settlement from the Scottish Government next week, we find it disappointing that democratic decisions made by this council are again being called into question."
Steve Turner, Muse Developments' regional director for Scotland, said there was "a high level of interest" around the development.
The council sold the former St Nicholas House site to Aviva for £10million and will lease Marischal Square for £5million per year for 35 years when it is completed in 2017.
It can then buy the site back for £1 at the end of the period.
The local authority's financial handling of the deal was cleared by Audit Scotland in September.