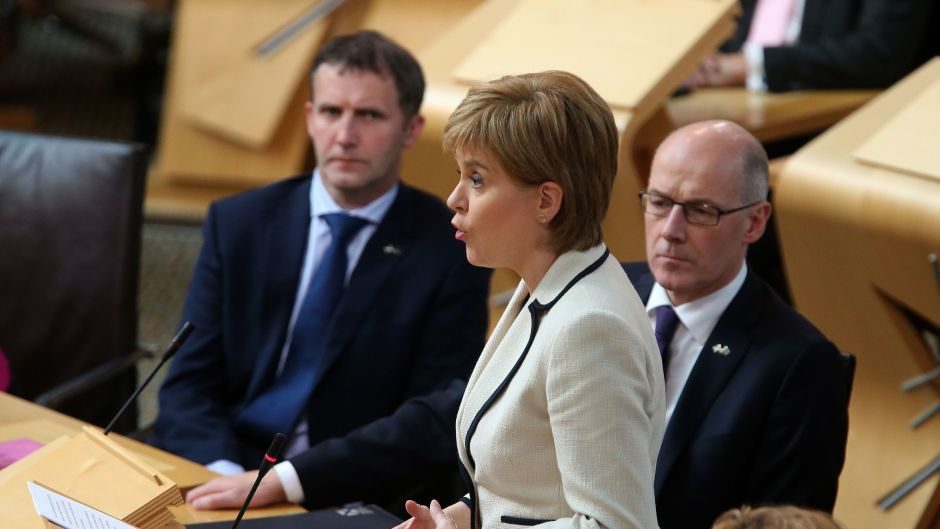 Nicola Sturgeon's bid to keep Scotland in the EU has suffered a fresh setback – despite her getting Holyrood's backing to save the country from Brexit.
European Council President Donald Tusk has snubbed a meeting with the first minister, while a European Commission source suggested it would also be bound to "respect" that Scotland is part of the UK.
The comments from two of the EU's most important bodies will come as a blow to Ms Sturgeon, who yesterday won a mandate from Holyrood to lobby European leaders to try to block a break from Brussels.
A spokesman for Mr Tusk said: "Given the situation in UK he feels it is not appropriate, but he is grateful for the invitation."
He refused to comment on whether they would meet in the future.
Meanwhile a senior EU Commission source said: "Scotland is part of the UK and the commission respects the internal constitutional arrangements."
Ms Sturgeon will make an initial visit to Brussels today to "set out Scotland's position and interests".
The first minister will meet the president of the European Parliament, Martin Schultz, as she continues efforts in earnest to keep Scotland in the EU.
She has made contact with the European Commission, but The Press and Journal understands no meetings with the executive body have been set for today.
However, the chief spokesman for the EU Commission said on Monday that President Jean-Claude Juncker has a "very open door" and he expects a meeting "at some point" to be "set with representatives from Scotland".
During the emergency debate yesterday, Ms Sturgeon received the backing of Holyrood to lobby European leaders to avoid a Scottish break with Brussels.
The first minister said: "More than 60% of voters across Scotland – and a majority in every single one of our 32 local authority areas – said clearly that they wanted Scotland to stay in the EU.
"Scotland voted to stay inside the single market and to protect the jobs, investment and trade that depend on it.
"We chose to be an open, inclusive and outward-looking society where other EU citizens are welcome to live, work and contribute.
"We voted to protect the freedom and prosperity that comes with our rights to travel, live, work and study in other European countries.
"And we endorsed the principle of independent countries working together to tackle global issues like climate change, energy security and the fight against terrorism.
"Scotland spoke clearly for Remain. I am determined that Scotland's voice will be heard."
The first minister insisted that Scottish independence was a possible option for keeping the country in the EU, but that it was "not her starting point".
The Scottish Tories attempted to amend the SNP motion to firm-up support for the UK but, despite backing from the Liberal Democrats, were defeated.
Conservative leader Ruth Davidson said: "My arguments in favour of the UK in 2014 were not just based on the economic risks of independence – convincing as they were.
"It was also because I believed that we in Britain had more in common than that which divides us.
"Does last week's vote test that notion? Yes, it does. And there is little point in pretending otherwise.
"It tests it, but it does not break it.
"It does not break the continuing logic of our sharing power within a United Kingdom, not splitting it up."
Scottish Labour backed the SNP motion.
Their leader, Kezia Dugdale, said: "The Tories have put the future of the UK in danger at every turn and it's high time they shouldered responsibility for that.
"The priority of these benches is to focus on the jobs and the economy and make the best of a very bad situation."