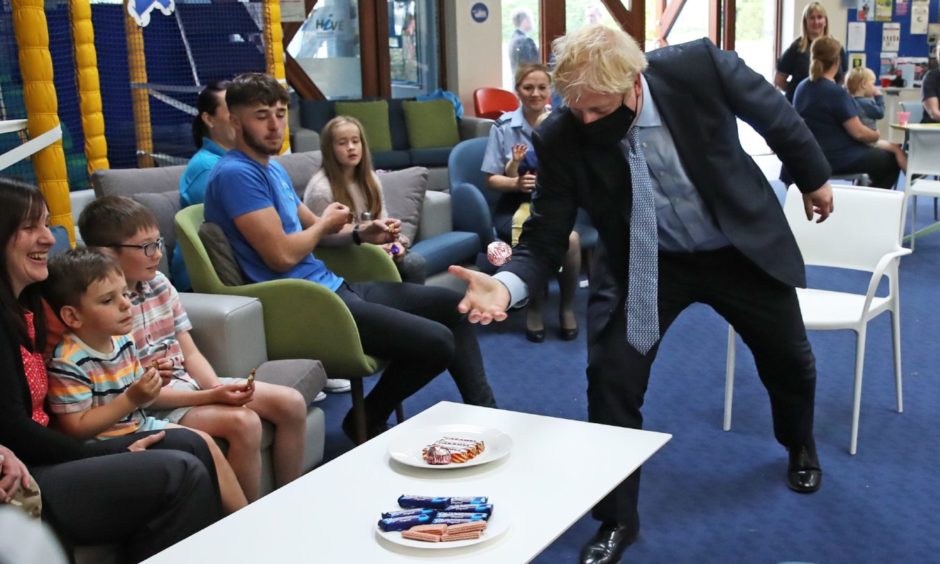 Boris Johnson vowed to fight punitive whisky tariffs which threaten Scottish jobs as he pledged to work for a free trade deal with the US.
The prime minister said the US tariffs were "unjustified", as were those being imposed on oatcakes, shortbread and cashmere.
He made the pledge as he rounded off his Scottish visit with a trip to the whisky heartland of Moray, where local industries also include Walkers Shortbread and Johnstons of Elgin cashmere.
But when asked if he stood by his promise that US tariffs would be gone by the time Brexit is done, the prime minister would only say: "If we can get a good free trade deal with the United States then they (the tariffs) will disappear."
These tariffs are unjustified and we are going to fight them every step of the way."
At RAF Lossiemouth, Mr Johnson said he was concerned about the tariffs and their impact on Scottish jobs.
"I do think they are unjustified and it is a point I have made repeatedly to the US administration and will continue to make. It is my hope we will get a free trade deal not just with our EU friends and partners but able to use that free trade deal to do a parallel deal with other countries including the US. At that state the question of tariffs on Scotch whisky should become completely historic, forgotten.
Scotch Whisky Association warns it is 'critical' that UK and US find own way to solve tariffs dispute
"There is no reason for these tariffs any more than there is reason for tariffs on oatcakes or shortbread or Johnsons cashmere stuff, scarves – beautiful things."
He added: "These tariffs are unjustified and we are going to fight them every step of the way."
In October last year, Donald Trump's administration imposed a 25% tariff on whisky and other intrinsically Scottish products such as cashmere and shortbread.
The introduction of the trade barrier has led to fears the impact on whisky exports will result in job losses in industry strongholds like Speyside.
Before the imposition of tariffs, whisky exports to America had been worth around £1 billion a year to the industry which employs around 11,000 people in Scotland – most of whom work in rural areas.