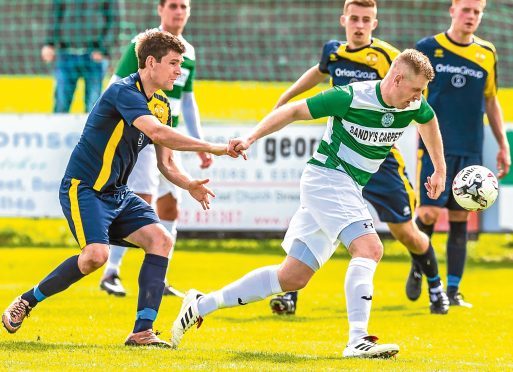 Buckie Thistle manager Graeme Stewart was relieved to take three points against an organised Clach side and conceded the speculation surrounding captain Kevin Fraser's possible move to Championship club Caley Thistle had affected the midfielder's performance.
The champions are up and running and Stewart said: "We started the game very well, created a few chances and it looked like it might be a comfortable win, but in the second half we struggled.
"Clach played well, although both teams played better against the wind, you could see how fit and strong they were and in the end Clach probably deserved to take something from the game.
"John McLeod took his goal well, he was superb and probably our best player, but it just shows how important it is to take the chances when they come along.
"However, if we had been more clinical in the first half it could have been a much easier game for us."
Stewart conceded Fraser's performance was affected and said: "Kevin looked tired and he's admitted to me he is shattered. He's the type of player who won't just sit in midfield as one minute he's over on the right wing trying to take a throw in and then galloping into an attack the next.
"If there is a deal to be done I guess both clubs will try and sort it out.
"We want him to stay and have made him an offer to stay, we want to keep him as we think he's the best player in the league."
Clachnacuddin manager Iain Polworth was disappointed his side took nothing away from Victoria Park after all its efforts and said: "We deserved something and even right at the end it took a good save from Daniel Bell to keep us out.
"For the penalty it was a great piece of skill from Stuart Leslie.
"He turned big Lewis MacKinnon and was taken down, Ian Penwright was confident to take the penalty kick but he struck it against the bar. Maybe that was the turning point in the game as had we got something then we might have had more belief in attack, which was something we lacked.
"I couldn't have asked for any more from the players with their organisation and application, all that was missing was that lack of belief in the final third."
Polworth paid tribute to new signing, former Northern Ireland international defender Sean Webb, and said: "He gives us organisation. You could see what he did today in working with young Mattie Grant alongside him at the back. The only time they really switched off was at the goal, when Mattie was caught on the wrong side. Sean is well-organised, authoritative and the players respect him."