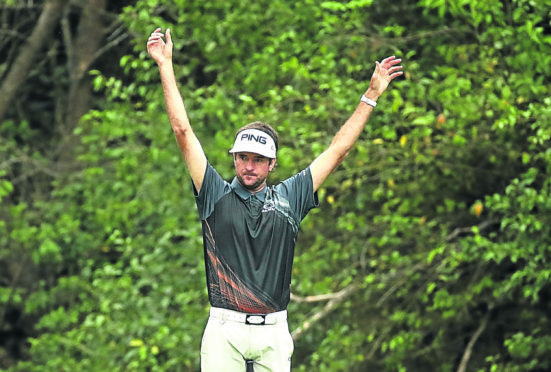 Bubba Watson is one of golf's most intriguing characters and proved that he remains a fierce competitor by winning the WGC-Dell Technologies Match Play at the weekend.
The two-time Masters champion plays the game in a unique manner. He turned professional without ever taking a lesson and plays completely by feel rather than focusing on technique.
Nobody can shape the ball the way he does and it is brilliant for the sport to have someone so different.
His victory on Sunday meant Bubba became only the fifth player to win multiple major titles and more than one WGC event.
Only Tiger Woods, Rory McIlroy, Ernie Els and Phil Mickelson had previously achieved that feat before his 7 and 6 victory against Kevin Kisner in Sunday's final.
Bubba is brilliant to watch and he annihilated Kisner in the final. I think Kisner's gruelling semi-final against Alex Noren, which went to the 19th hole, took a lot out of him.
What always impresses me about Bubba is the strength of his short game.
Everyone talks about the distance he hits the ball but the standard of his chipping and putting is also phenomenal.
He tends to be one of the best players on tour when it comes to scrambling statistics.
A player that can hit the ball a long way and scramble as well as he does is always going to be capable of winning big events.
I quite fancy a left-handed player to do well at Augusta next week and Bubba and Phil Mickelson are certain to be feeling confident after their recent WGC victories.
Next week's Masters is possibly one of the hardest-ever to predict as there are so many quality players on form but I wouldn't be surprised to see Bubba and Phil near the top of the leaderboard.
Justin Thomas, beaten 3 and 2 by Bubba in the semi-finals, was disappointed to fall short in his bid to become world number one. A place in the final would have been enough to take him to the top of the rankings but Justin admitted the pressure of trying to become number one was affected his game.
That is understandable because there aren't many players who have reached the top of the rankings.
Dustin Johnson has now been there for over a year.
It is incredible that Justin Thomas has won six times since the start of 2017 and still not made it to number one.
But he is not far away and a good showing at the Masters could propel him into the top spot.