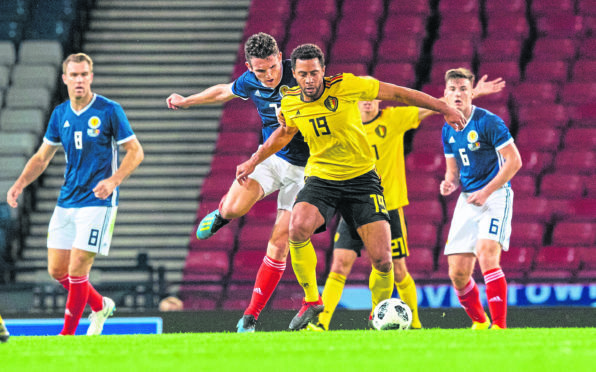 Scotland midfielder John McGinn views this week's double header against Israel and Portugal as ideal respite from the ongoing problems at Aston Villa.
The Villans have made a poor start to the English Championship campaign and currently sit 15th in the table, which prompted the dismissal of manager Steve Bruce last week.
Having only joined Villa from Hibernian in the summer, McGinn has been left to speculate on who his new manager will be, with the likes of Thierry Henry and Rui Faria having been linked, and Celtic boss Brendan Rodgers appearing to rule himself out.
McGinn feels the international break is a welcome change of focus, and he said: "It has been interesting. Obviously when you are at a club that has demands, there is going to be turbulence at some point.
"When you go down and see the place, it's an eye opener. It's a club that deserves to be in the top half of the top flight, a massive club. And that means it's very demanding.
"Whoever comes in, it doesn't matter what name they are. If they're not getting results, there will be pressure – you feel it as a player.
"It's something you should thrive on, playing at a big club. Obviously it's exciting that the club is attracting big names but it comes with the territory. You've got to prepare and you've got to produce.
"We never know what's going to happen, but the international break has come at a good time for me, in that sense.
"Hopefully I get a couple of games for Scotland, go back and have a new manager to settle in with."
Despite his club's struggles, McGinn has enjoyed a promising start to his own Villa career, opening his account with an outstanding volley in a 2-1 defeat at home to Sheffield Wednesday last month.
The 23-year-old says the subsequent poor form took the shine off the strike, adding: "It went viral. But we eventually were beaten and the manager was under pressure. It didn't work out the way we wanted. I wish it had been under better circumstances.
"Obviously I was delighted with the goal and to get the messages of support from around the world.
"When I hit it, I knew it was in. Then it hit the bar and I had a wee panic. It was nice to score a goal like that. But it didn't help the team that day.
"It was still a defeat and it started a negative run for us."
McGinn, who could win his 10th cap in Thursday's UEFA Nations League match against Israel in Haifa, made a well-publicised error which led to Belgium's opener in last month's 4-0 friendly loss at Hampden Park.
McGinn felt he bounced back against in the 2-0 victory over Albania, adding: "I thought I did OK over the two games but it was a case of building and learning from it.
"I managed to make very few mistakes during Gordon Strachan's time but the more play you have the more chance you have of being involved in one.
"It just so happened it was a high profile one which led to a goal.
"I am still learning all the time and it makes me think twice. I wasn't going to get caught again. It wasn't a nice feeling that night but it made me even more determined to put in a good performance in the Albania game. Thankfully it went OK.
"It makes me more sympathetic to goalkeepers and defenders, that's for sure. When you make a mistake like that you want the ground to swallow you up.
"You can either collapse go under or puff your chest out and get on with it. That's what I tried to do."