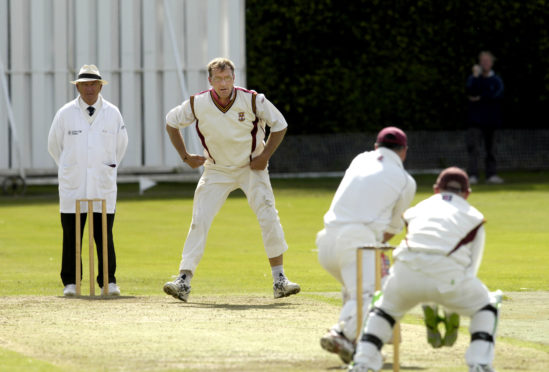 There were plenty of sombre individuals on the Scottish cricket circuit last week.
Whether in hearing about the serious illness which has stricken Aberdeenshire's young professional Solo Nqweni, or the sudden death of larger-than-life stalwart Willie Morton, it wasn't just the clouds which were weeping.
I've been fortunate enough to spend time in Solo's company and, while he might not always have appreciated the charms of a so-called "summer" in Scotland, he's an engaging and talented lad who has quickly become a popular figure.
Willie was one of the game's ambassadorial, gregarious spirits over the last 30-40 years and has left an indelible mark on the careers of so many outstanding youngsters and everybody who met the big fella.
Cricket in Scotland, by its very nature, is a close-knit community. It would be overstating matters to describe it as one happy family, but the vast majority of the participants are amateurs who play for the love of the game.
If there is any nonsense on the pitch, it tends to stay there, which is exactly how is should be.
Although much of 2019 has been a wash-out, there is plenty to savour in the weeks ahead as the season reaches its climax.
The Scotland selectors will name their squad next week for the World Cricket League series in Aberdeen against Oman and Papua New Guinea.
They should have plenty to discuss, because there have been some genuinely fantastic performances by Scots in recent weeks, and none better than from Ollie Hairs.
Aberdeenshire suffered at the former Scottish player's hands earlier this month. But the Grange opener went truly ballistic last weekend by hitting 179 not out from 81 balls, including 17 fours and 12 sixes against Stew Mel.
The latter are second bottom in the Eastern Premier League and can still be caught by Shire in their fight against relegation from the top flight. It's a hard ask, but even without Solo, the Mannofield club are refusing to despair.
In the next month stars of the quality of Kyle Coetzer, Calum MacLeod, Matt Cross, Safyaan Sharif – and Hairs – should be entertaining crowds in the Granite City.
Glasgow and Edinburgh's T20 squads have been bolstered by the recruitment of superstars such as Brendon McCullum, Martin Guptill and Dale Steyn.
It might be that a sense of tristesse has enveloped the circuit in the last few days. But nobody who was fortunate enough to spend time in Willie Morton's company will ever forget it.
Of course, it's sad. But he was one of those redoubtable characters who would surely have insisted we pick ourselves up and continue with the game we all love.
*****
Meanwhile, it's well done to Kirstie Gordon on her debut Test match appearance for England against Australia.
The 21-year-old Huntly woman had to work hard against the Aussies at Taunton and ended up taking three for 119 in nearly 37 overs during the contest, which finished as a draw.
Considering she has largely restricted her activities to T20, this was a real challenge for the Scot – and she rose to it with all the commitment you would expect from this Gordon Highlander!