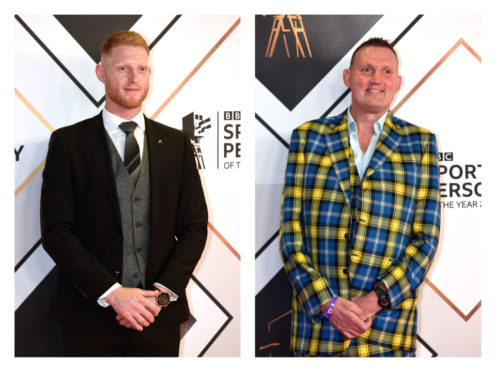 There are plenty of things to feel cynical about in sport.
But cricket has produced a string of feel-good stories in 2019 and that helps explain why it was a joy to watch Ben Stokes and Eoin Morgan gain their proper rewards at the BBC Sports Personality of the Year ceremony at the P&J Live on Sunday.
Stokes carved out a special reputation while he guided England to their maiden World Cup victory last summer. In the middle of July, he and Jos Buttler and Jofra Archer were the  pivotal figures in one of the greatest matches ever staged, where they edged out gallant New Zealand.
That was on July 14. On the same day, hundreds of miles away, Aberdeenshire's professional, Solo Nqweni, first started noticing symptoms of an illness which eventually led to him fighting for his life at Aberdeen Royal Infirmary.
His struggle with Guillain-Barré syndrome in the last five months has been an example of how cricket is a big family. Occasionally, there are arguments, fall-outs, and people have dissenting views, but we're all pulling together in the same direction. And thankfully, as Christmas approaches, Solo is getting better.
At the weekend, he was visited by Stokes and the conversation between the two players was telling. Solo hasn't been able to speak for much of his ordeal, but he managed to talk about his illness and revealed how one of his last memories was watching Stokes steer the English line-up to their global triumph.
There is a video of the two men in discussion and a couple of things quickly become apparent. Firstly, Stokes is in his element with another cricketer and the mutual respect shines through their conversation.
Secondly, though, one gets the very clear impression he would have been much happier if the whole affair had not been recorded for posterity. And who can blame him for that? He hasn't always enjoyed good fortune in the last few years, but he and Solo exchanged laughs together and it was a pleasure to behold.
Morgan has enjoyed similar success in 2019 and it's impossible not to revel in his rise to the summit.
I remember following Scotland on their march to the ICC Trophy in Ireland in 2005 and, even as Craig Wright and his colleagues recorded victory after victory in the competition, the talk was all about a talented batsman in the Irish side.
In the final, the Scots continued their mighty advance to their goal, and there was only a fleeting appearance for the teenage Morgan, but it was evident even then he was destined for great things.
The home crowd and media talked about his instinctive timing and freedom of movement, developed during his time in Gaelic Football and hockey, and these features have shone throughout his career. He might not be a Test player, but he has excelled at ODI level and the smile on his face at the BBC Awards was a testament to his achievements since he took charge of the Blighty brigade.
Cricket has occasionally toiled in recent times. The ICC is still grappling with a structure which satisfies the elite while encouraging the Associate nations. They haven't solved the problem of bringing the Test format into the 21st century.
But, in Aberdeen on Sunday night, the game proved it has a multitude of followers who will stick with it through thick and thin.
And Stokes, in his visit to see Solo, showed that the sport will persevere because those who play it care about others on and off the field.