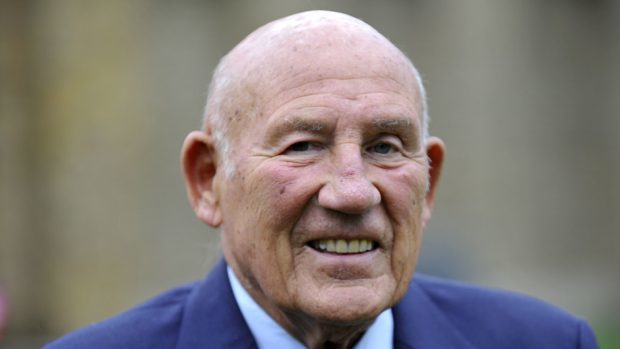 It's probably difficult to explain just how glamorous the world of Formula 1 was in the 1960s.
In these days, the drivers who risked their lives in flimsy cars on treacherous tracks, while plying their trade at breakneck speeds, mixed comfortably with rock stars and film idols, whether it was the Rolling Stones, Steve McQueen or Paul Newman.
Stirling Moss, who has died aged 90, was in that firmament, alongside the likes of Graham Hill, Jim Clark and Sir Jackie Stewart; and, although he never won an F1 championship title, his skills, unwavering commitment, nerveless temperament and pursuit of brilliance were all recognised by his peers and the wider public.
Indeed, it wasn't just his talent which led to him being crowned the BBC Sports Personality of the Year in 1961. Moss, who won 16 of the 66 races in which he participated was a willing second string with Mercedes Benz to the legendary Juan Manuel Fangio, but the English maestro was a formidable force in his own right, as he demonstrated repeatedly across the whole motorsport realm.
He and Fangio shared a razor-keen rivalry, but it never descended into the vitriolic vendettas which have developed elsewhere in the pit and paddock. Moss might have been the runner-up in the F1 standings four times between 1955 and 1961, and was third on three further occasions, but he didn't regret being so near and yet so far.
There were myriad highlights in his cv. In 1955, he delivered an exceptional performance during the Mille Miglia, a gruelling test of endurance in Italy. He was a powerhouse at the Nurburgring during his victory in 1961 and made an appearance in the film The Green Hell, which celebrated the latter triumph.
At the time he was involved in F1, death wasn't the exception, but an occupational hazard once the competitors had emerged from the pit lane. The former driver, Martin Brundle, reacted to the news of Moss' death by saying: "RIP Sir Stirling Moss, a mighty racer and gentleman. He survived the most dangerous era of motorsport and had such great stories to tell that it was a privilege to know him."
Most of these luminaries from the days of Beatlemania have now left us, but Moss' compatriot, Stewart, who won three global titles, was among those who was spellbound by the fashion in which his compatriot relished his adrenaline-fuelled life.
As a teenager, the little Scot queued patiently to get the prized Moss autograph and, impervious to his own exploits, was always in thrall to the Stirling philosophy.
As he said: "He walked like a racing driver should walk, he talked like a racing driver, he looked like a racing driver and I think that he set a standard that has been unmatched ever since he retired."
Moss diced with disaster on several occasions and survived two major crashes at Spa in 1960 and Goodwood in 1962. He was never blase or complacent about the risks in his vocation, but he later admitted he had been lucky where others had perished.
There was also the classic moment which might have come from a Hollywood film, when he was pulled over by a policeman while travelling across London early one morning and was asked: "Who do you think you are – Stirling Moss!"
No ticket was issued by the officer, but the story had a appropriate coda which isn't widely known. Further up the road after the incident had happened, he met up again with the driver of the car he had overtaken and gave him a pound note. "Take this and, for God's sake, go and get a driving lesson, even if it's just the one."
It was far removed from the modern era, where the F1 authorities have taken radical steps to improve safety in the Grand Prix arena. Yet, while Moss might appear to have little in common with reigning champion, Lewis Hamilton, these two characters shared a common bond and mutual respect which transcended the generations.
As Hamilton said, in a heartfelt tribute: "I think it's important we celebrate his incredible life and the great man he was. He will always be in our memories.
"I certainly will miss our conversations. To be honest, it was such an unusual pairing, our friendship. We were two people from massively different times and backgrounds, but we clicked and ultimately found the love for racing we shared made us comrades."
It is a fitting epitaph for a remarkable individual.