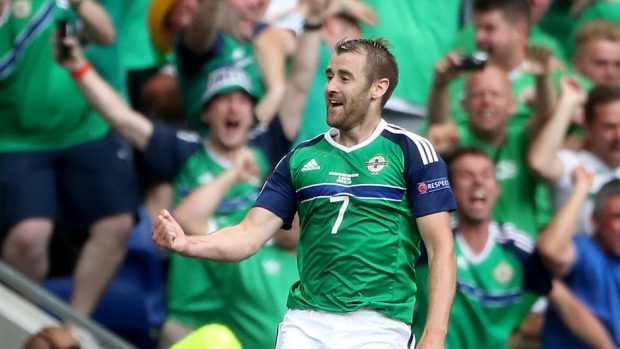 Niall McGinn does not want 2016 to end.
It is the year in which the Aberdeen attacker represented Northern Ireland in the European championship finals and this week McGinn earned his 50th cap when he captained his national side in its friendly against Croatia.
When he finally hangs up his boots it's fair to say this year is one McGinn will look back on with pride.
He said: "It has been an unbelievable 2016 for me with Northern Ireland.
"On a personal note to reach the milestone of 50 caps was great for me and to captain the team as well made it a special night allround for me.
"I was disappointed with the result but we got the right result on Friday night in our qualifier and it sets us up nicely for the Norway game in March.
"Being part of the Northern Ireland squad is unbelievable. We have a laugh and a joke but when it comes down to business we gel well. We are not a country blessed with outstanding players but what we have is fantastic team spirit and we work hard for each other.
"We're technically good at set-pieces but we can play when we have to as well. We've got guys playing in the Premier League, Championship, League 1 and in Scotland but playing in the Euros has brought us together as a group.
"When I first came through the door at Northern Ireland we were losing a lot of games but now we win most of our games and it is brilliant to be part of it."
Domestically, this year has been pretty good for McGinn, too.
He helped his club finish second behind Celtic, played in the Europa League qualifiers with the Dons and has played his part in taking Aberdeen to their second League Cup final in three seasons.
No wonder it is hard to wipe the smile off his face.
McGinn, who is in the squad for his side's trip to Caley Thistle today, has a date with his former club Celtic to keep him occupied next weekend at Hampden Park. But for now he insists all the focus is on today's game at Inverness.
McGinn added: "The team spirit at Aberdeen is good and I feel privileged to be part of two good squads at this time of my career.
"As a professional footballer a cup final doesn't come around too often. We've been there before and had a taste of it, so we'll look forward to it when it comes but the most important thing right now is this Saturday and we'll look forward to that.
"It will be a tough game but we want to go to Inverness and get the right result and if we can do that it will set us up nicely for next week and we know how tough next week is going to be but it's a game we all want to be involved in."