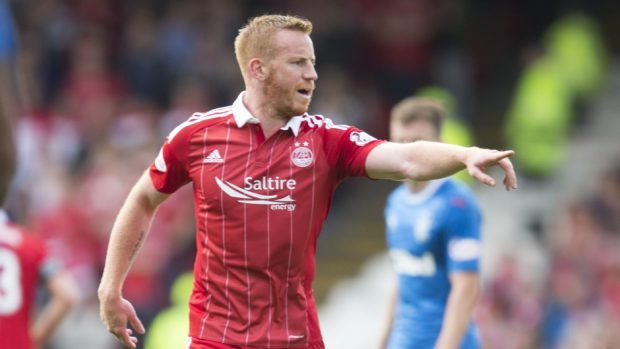 Aberdeen attacker Adam Rooney insists reports of his club's demise have been greatly exaggerated.
Rangers manager Pedro Caixinha has the Dons in his sights as he targets moving above them next season, and claims the Pittodrie club may be about to begin its decline.
The Dons have had their fun as the second best team in the country for three years running. Now it's time to dutifully shuffle to one side and allow the natural order to return.
Caixinha, pictured below, is clearly a man who enjoys a wind-up.
His logic was Rangers were only two points behind Aberdeen when he arrived, as it was a given they would beat the Dons twice, so the eight-point gap in the table could be ignored.
His latest gem is Rangers are actually only a point behind Celtic in the form table since he arrived and are clear of the Dons – so he is doing a marvellous job.
He would also like to sign Dons midfielder and captain Ryan Jack as well.
Rangers are not laughing. Aberdeen's presence above them in the Premiership table has been deeply unsettling to all at Ibrox.
Trouble is, no amount of talk from Govan is going to change matters.
Rangers are watching Aberdeen walk away with more money, kudos and respect for their achievements – and they are not happy about it.
Rooney has heard it all before. He paid no attention then and is not about to change his ways now.
He said: "We don't pay too much attention to what other people say. We never have, we have always focused on ourselves and that is something the manager is really keen on.
"We don't worry about other clubs, we just focus on developing ourselves and getting better.
"We know no matter who we play we have a good chance of winning and, hopefully, that will lead to success like we have had this year."
The Dons travel to Ibrox tonight to face a Gers side which is clearly none too happy at having to play catch-up.
All season, the talk has been of a title challenge from Ibrox.
It didn't happen.
Failing to be best of the rest is the icing on an unpalatable cake and prompted a rapid change of manager.
Aberdeen's emergence in Rangers' absence has been emphatic and consistent and Rooney insists the Dons will not go quietly, no matter the chatter.
He said: "We have been the second best in Scotland for the last number of years and that is our aim again this year.
"We want to finish with as many points as we can and hopefully we can go on and win a cup. If that is the case it will be our most successful season in a number of years.
"I don't think we need to lay down any markers. We want to go and win the game, naturally, but that is no different from any other. We go there confident and looking to get the three points.
"We have done that in recent seasons because we have been questioned on every big occasion, by different managers and the media, and we have always risen to it and done as best a job as we can."
If there is one thing missing from what has been a fine campaign for Derek McInnes and his players, it is the absence of a win from Ibrox or Parkhead this season.
Tonight represents one final chance to tick that box – and it is one Rooney is relishing.
He said: "Someone asked me about going to Ibrox because we have not won there in 26 years.
"I have only gone to Ibrox once since I came back up here.
"Hopefully we can go and get the win.
"We went to Glasgow a couple of seasons ago and beat Celtic at Parkhead.
"We are capable of doing it, but it is as difficult as teams have found coming to Aberdeen.
"We will go looking to get the win, especially if we can play like the last 80 minutes as we did the other day against Celtic.
"Hopefully we will get a better start, though."