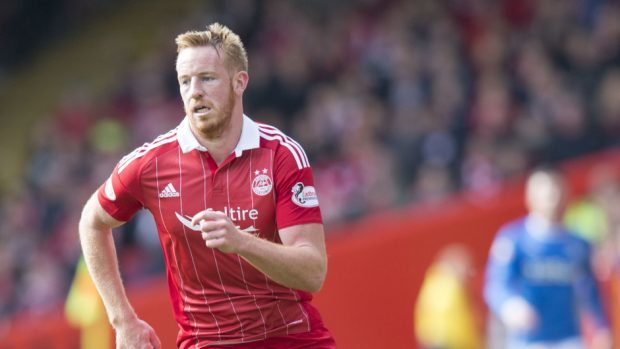 Aberdeen have enjoyed a fine campaign. They have finished runners-up in the Premiership and the League Cup and have reached the Scottish Cup final.
Now attacker Adam Rooney wants something tangible to show for his side's efforts.
Rooney has broken the 20-goal barrier for the third year running for the Pittodrie club, but the Republic of Ireland international is not interested in accolades. He wants silverware.
He said: "That is what I want. I want to win things. It is all right finishing second, having a good season and setting records, but the seasons to remember are the ones where we pick up silverware at the end of the season.
"We look forward to the final and regardless of what happens we have had a great season. It also gives us something to aim for next season to try to better this, but we would love to top off the campaign with a trophy."
Getting their hands on the Scottish Cup will be no easy task.
The Dons have played second fiddle to an all-conquering Celtic side all season with Brendan Rodgers' team coming out on the winning side in all five meetings between the clubs. A sixth and final chance beckons and Rooney is eager to make it count.
He said: "Even though we lost 3-1 here, our last performance against them shows we can get at Celtic.
"It also shows we can cause them a lot of problems because we put a lot of balls into their penalty area.
"We also put a lot of pressure on them, but they also showed in the last game what they are capable of and we have to
focus on that to make sure we are protected against their threat again.
"We have to make sure we don't give Celtic a three-goal lead because I don't think anyone can do that.
"The last game has given us a little reminder we can cause them problems and gives us the belief we are going to the cup final to win it.
"The manager said before the last game that no matter what the last score was we would be going to the final and anything could happen.
"It is a one-off occasions and we have sold a lot of tickets, as have Celtic. It should be a cracking atmosphere.
"There are also enough players here who played in the League Cup final which we won in 2014.
"We remember what the celebrations were like and we all want that again. We have put ourselves in a position to win it and all the squad are desperate to lift the cup again."
While Aberdeen chase their first silverware of the campaign their opponents are one game away from an unbeaten season domestically and the treble.
With the expectation on Rodgers' side comes pressure, but Rooney insists the Dons players are not interested in stopping a historic clean sweep. Their only aim is to have their own cup-winning party.
He said: "I am sure Celtic will think about it the closer they get, but Kolo Toure has done it before with Arsenal.
"He has that experience and I am sure he'll pass that on to the rest of the Celtic players.
"They will want to go the season unbeaten. They have been under pressure all season not to drop points to be fair and they have coped with it well.
"We know the pressures of playing for Aberdeen and it will be the same for them.
"We just have to make sure we can play as well as we can to get the best possible result.
"We don't really look too much into spoiling their treble party because we just want to win the cup for Aberdeen. We want to win for ourselves and not to spoil somebody else's party."