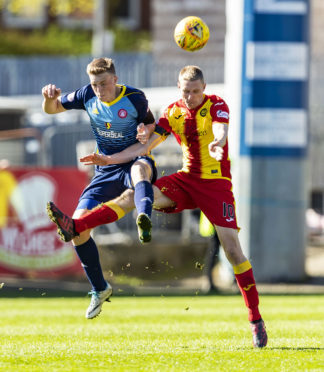 Aberdeen manager Derek McInnes insists the Dons have done their homework as the fee the club will have to pay Hamilton for Lewis Ferguson heads for a tribunal.
SPFL arbitration will be required to determine the transfer fee after the clubs failed to agree a compensation deal for the 18-year-old following his pre-contract agreement with the Dons last month.
The Dons made an offer in excess of £100,000 for the teenager but Accies reportedly value the player, the son of former Rangers and Falkirk midfielder Derek Ferguson, at £900,000.
McInnes, however, believes his club's valuation is a realistic one.
He said: "We'll go to the tribunal but I'm confident and comfortable that we've done our due diligence and the tribunal outcome will reflect that.
"Hamilton have got such a high regard for Lewis so I'm not surprised it's going to a tribunal.
"Hamilton have produced some good players and I hope that can continue to be the pace and that he can go through the gears and reach a good level."
The Dons boss has high hopes for the midfielder and has challenged the midfielder to show he can become a first team regular at Pittodrie.
He said: "He's settled in well and shown up well in testing today. I'm pleased we have a young player like that as we cannot always sign the ready-made players at Aberdeen. We can sign players who have potential.
"Lewis is a lad who will have to work hard to get into our team on a regular basis but he is one I think will meet the challenge head-on. He will push himself and work hard to force his way in.
"He's done that already at Hamilton and his challenge is to do exactly the same for us. Without putting too much pressure on him I'm sure he will do that with us."
The comparisons with his father will inevitably follow but McInnes believes Ferguson is a different player to his dad.
He said: "He has a different style to his dad Derek but what you do see is a natural footballer. Everything about him looks natural and sometimes you see that when the dad has played at a decent level.
"The first time I watched him it took me time to figure out whether he is left or right footed. He has a good size, is comfortable on the ball and has an aggressive edge too.
"I'm sure he has characteristics from his father but I'm looking forward to getting to know him a lot better and I'm sure he will do well for us.
"A lot of kids have to deal with dads who have had a good career and he isn't the first son of a good footballer to go and do well. He's a switched on boy."