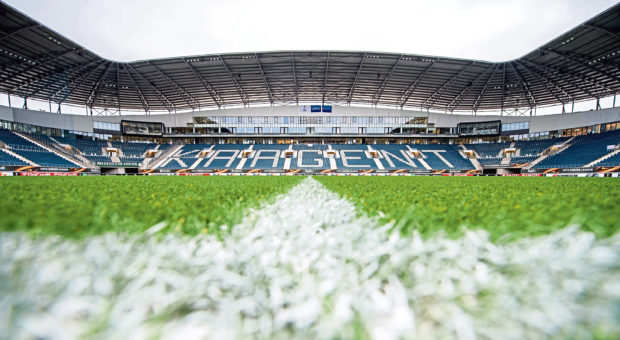 Aberdeen supporters are anxiously awaiting more detail on what the club's new home will look like.
Dons commercial director Rob Wicks hopes he can help to deliver a matchday experience for the Red Army that will be second to none.
Wicks is part of the team casting its net far and wide in search of inspiration as Aberdeen aim to deliver a new stadium that will lay the foundations for the club's long-term future.
It has taken the Dons almost 20 years to get to the position where they can actually begin work on the stadium.
The false steps and roadblocks have been varied and taxing but an end – hopefully within the next five years – is in sight.
A Phase One completion of a £12million training ground is the first target. But relocating manager Derek McInnes and his playing staff, and the AFC Community Trust, is the first step.
The bigger picture is delivering a 20,000-capacity stadium at a new location.
It is crucial Aberdeen get it right and Wicks insists no stone will be left unturned in ensuring the customer is spoiled for choice once the new venue is open for business.
That is why he is travelling the world looking at what other clubs do and talking to leading stadium designers.
He said: "We have worked with some of the best people in the business and we have access to some of the best people in the business whether it is here or abroad, people who have done work with some of the best stadia.
"We've looked at stadia in and around the UK and still have a number of visits to undertake as well.
"I went out to Atlanta last September as an opportunity to explore what they do and I think a few people were horrified I came back converted by what they were trying to do or have achieved.
"What they have done is put the fans first whether it is fan-friendly menu pricing or the whole matchday experience. The amount of consultation they went through to get to that point was really interesting and we have learned from that.
"That's not to say we want to recreate Atlanta in Aberdeen but we want to take some of those broad brush strokes of a fan-first ethos and making sure the right matchday experience can be delivered."
Visiting the 71,000 capacity multi-purpose Mercedes-Benz Stadium in Atlanta is not a like-for-like comparison, nor is the Emirates Stadium in London or Tottenham Hotspur's new home. But there is no doubt they are valuable research opportunities.
That is why Wicks has also looked at comparable operations in Europe – and he has planned more fact-finding missions.
He said: "I was at Gent in Belgium recently to see a very interesting stadium. There's a city, 250,000 people – the same size as Aberdeen – 20,000 capacity stadium. There were really interesting lessons in terms of what they have done and the upkeep of the stadium.
"It looked like it had opened a year ago, never mind six years ago. There have been lots of those sort of learnings.
"We want to go to Bristol where it's a multi-sport environment. Why shouldn't we be thinking about a third professional rugby team in Scotland being based in Aberdeen? Why not, and what an amazing home and facility we could provide for that in time.
"It's all those sort of questions as we look to future-proof the stadium. We have to make sure we have the best technology in the stadium to enable us to provide the best fan experience we possibly can."
One area which has stood out is the corporate facilities on offer at the various stadia on Wicks' journey.
Wicks believes there is a clear opportunity for growth for the club as a dining experience – and not just on matchdays.
He said: "At the moment we tend to cater a relatively casual offer on the second tier of the Richard Donald Stand and a premium version above it but there is very little in between.
"That whole market is changing massively. We see scope for the likes of a supporters' bar which is linked to a premium seat so people can gain access before the match. We're very much a family friendly club so we see a family offering in that mix as well.
"We want to offer a more contemporary dining experience which is more casual and you don't have to arrive three hours before a match. We're seeing the demand for this the world over, not just here or in England or Europe.
"Of course, there is scope for a premium offer and there is a great example from the guys in Belgium. They took a Michelin star restaurant and built it into the stadium. It is open Monday to Friday and generates great revenue. Then, on a Saturday or Sunday when a league game is on, the club's fine-dining offering. It's a great example of thinking outside the box and trying to do something different and that's what we're looking at."