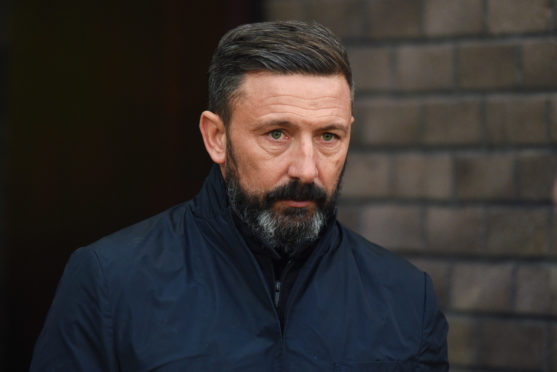 Aberdeen manager Derek McInnes feels the Dons have the right man to drive them forward in Dave Cormack.
The Atlanta-based businessman, a lifelong Aberdeen fan, will take over as club chairman from Stewart Milne and McInnes needed little convincing of his ambitions for the Dons.
Cormack has been instrumental in attracting funding for the new training ground, which bears his name, and in bringing investment to the club from America.
McInnes revealed he first spoke to Cormack after the 2017 Scottish Cup final, when his own future was in flux, and is impressed by the ambitious plans he has for the club.
He said: "The most important relationship at any club is between the chairman and manager or owner and manager. We've got to have similar beliefs and aspirations and a good working relationship. I feel I've got that with Dave.
"Dave has ambitions for a club – he wants us to be a bigger animal and that's music to the ears of any manager, when you've got that ambition at boardroom level to drive the club on.
"Stewart first asked me to speak to Dave a couple of days after the 2017 Scottish Cup final. From that first phone call with Dave, he was enthusiastic and knowledgeable about the club. He was keen to get involved.
"I could tell Stewart felt he was going to be a main player for us.
"There was a bit of interest in me from Sunderland at the time and conversations with the chairman and Dave convinced me staying here was the right thing to do."
McInnes has had early conversations with Cormack with regards to his budget, including scope to do some business in January.
He added: "We've been given encouragement by Dave that there may be an opportunity to do something in January.
"There's not a manager in the country that would not want more money to spend but what we're working towards is being able to spend more by growing the club."
The Dons boss also paid tribute to Milne, who brought him to the club in 2013 and will remain on in a directorial role after handing over the reins to Cormack.
"He's navigated the club through some difficult periods," said McInnes.
"I think his time here will be viewed fondly by the majority of fans.
"It's not easy being a chairman but he's dealt with everything that's come his way brilliantly."